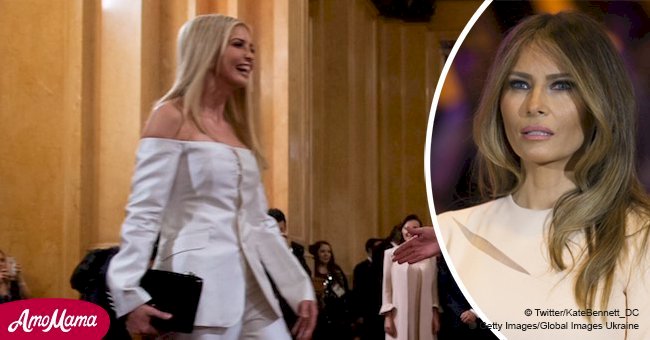 Ivanka Trump bares her shoulders in $3,000 pantsuit by a designer who refused to dress Melania

On Friday, Ivanka Trump chose to wear a pantsuit designed by a woman that is one of the Trump administration's largest detractors in the fashion industry.
When Ivanka arrived at the Argentinian gala wearing the Gabriela Hearst ivory off the shoulder pantsuit, it raised eyebrows.
As first noted by CNN's White House reporter Kate Bennet, the fashion designer has not only refused to dress FLOTUS but had also spoken out against the president's plant to defund Planned Parenthood and his immigration policies. Adamantly Gabriela Hearst said:
"If they want to wear the clothes, they can buy the clothes."
Well, if you want to buy the clothes, the straight leg cropped trouser Masto pants cost $997.68 while the matching Dorothea blazer will set you back $2105.65.
Read more on our Twitter account @amomama_usa.
But Gabriela Hearst is not the only designer with that point of view, other designers like Marc Jacobs, Zac Posen, and Sophie Theallet all said they would decline to dress the first lady if asked.
Another odd thing is why Ivanka would choose to wear clothes by a designer so avidly against her father, and their whole family. Also, the pantsuit is part of a collection that got inspired by activists and left-leaning politicians like Kamala Harris, Angela Davis, and Tammy Duckworth.
For this particular collection that the pantsuit is part of, designer Gabriela Hearst told Yahoo! Style in 2017:
"Before we were thinking about dressing Hillary and now it's like, how do we bring Donald Trump down? Women that put their strength and their qualities in the service of others seemed like a good reference to keep us motivated."
During a time when everything is political, it's difficult not to read something into her actions, since she had never shown any sort of solidarity to anyone besides her father, always by his side.
But she is not just the daughter of President Donald Trump, but also his senior adviser as one of the most powerful women in the world in 2018, as per a recent release by Forbes.
Ivanka ranks in at 24, one place behind Queen Elizabeth II. Also in the top 25 is Oprah Winfrey, Sheryl Sandberg and Melinda Gates.
Coming up in first is Germany's Chancellor Angela Merkel followed by Prime Minister Theresa May in second while the head of IMF, Christine Lagarde takes the third spot.
While on the topic of money, 34-year-old technology analyst, Sarah Schmidt spent thousands of dollars to look like Ivanka Trump. Sarah chose to undergo nine surgeries in one day so that recovery for everything she had done is all at once.
Sarah expressed her admiration for Ivanka and admitted that she fantasized about looking like her. During an interview, Sarah explained why she wanted to look like Ivanka Trump and said:
''I think she is beautiful, poised, classy. The way she carries herself. What's not to like?"
Please fill in your e-mail so we can share with you our top stories!