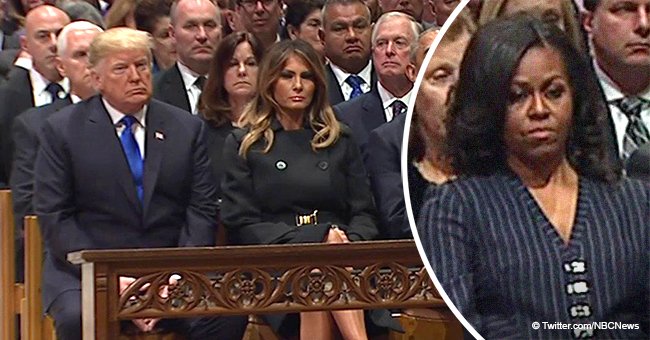 Michelle Obama's facial expression while seated next to the Trumps at Bush's funeral has gone viral
All the living presidents and their first ladies attended George W. H. Bush's funeral this week, and they had to share the same pew at the church. After having to sit beside Donald and Melania Trump, Michelle Obama's facial expression has gone viral.
Family and friends of the Bush family united with dignitaries from all over America to bid George Bush Sr. one last goodbye at his funeral. While the church was filled with big names, what stood out was the fact that all living US presidents were in the same room together with their first ladies. Although this might be interesting for people, it was one big awkward encounter for the presidents.
It's quite clear that Trump, Obama, and the two Clintons don't necessarily get along with one another. In fact, they have all thrown shade about each other, one way or another. However, such an occasion forced all of them not just to be in the same place, but even sit on the same pew.
While the way each of them reacted could be a story in itself, there is one particular expression that stood out from the rest, and that was Michelle's. As pure as can be, Michelle Obama has never been one to hide her emotions.
Before the ceremony started and with everyone in their seats, the Trumps made quite an entrance. With their seats located at the very front beside the other living presidents and first ladies, Donald and Melania walked in the church's main aisle towards their seats, while everyone else was already there. As they reached their pew, they greeted those closest to them, which happened to be Barack and Michelle Obama.
Seen by thousands all over the world due to its live telecast, Melania greeted the Obamas before Donald followed suit. Having to stay composed, Barack and Michelle bid them a casual "Morning".
Meanwhile, Hillary fixed her gaze on the altar without even flinching as the Trumps arrived, and Bill just amusingly looked on as the two of them sat down.
Now, Michelle Obama's reaction has become a meme all over the internet, with people asking for suggestions as to what they would caption the photo as.
In the end, the photo was flooded with comments like:
"When the teacher puts you in a group project with your crush but ruins it by adding people you hate and your crush hates"
"The face we make when we study & still get lower than an A"
While the photo might have ended up as a meme, it doesn't change the fact that they were there to mourn the death of former President George H. W. Bush.
May his soul rest in peace.
Please fill in your e-mail so we can share with you our top stories!