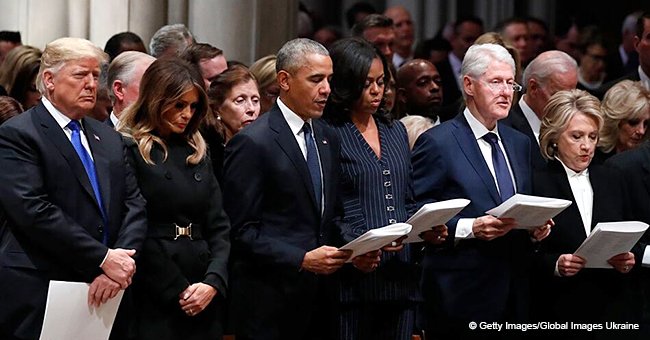 Trump blasted for not reciting the prayer along with other presidents at Bush's funeral
During the funeral of former President George H.W. Bush, the cameras captured a moment that made people on the Internet criticize President Donald Trump.
The ceremony, held on December 6, gathered together several important members of the history of the United States of America. Most of them showed respect and diplomacy, except for two: President Donald Trump and First Lady Melania Trump.
When it was time to recite the Apostles' Creed, the camera focused in Barack and Michelle Obama and Bill and Hillary Clinton, former presidents and first ladies of the nation.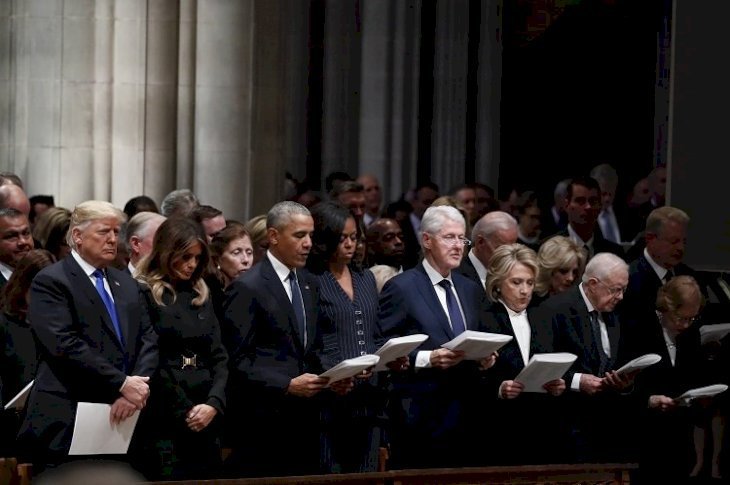 Source: Getty Images
THE HIGHLIGHT OF THE CEREMONY
The four of them were reciting the prayer, just as the rest of the mourners around them. As the camera's image got wide, Donald and Melania became the highlight of the ceremony.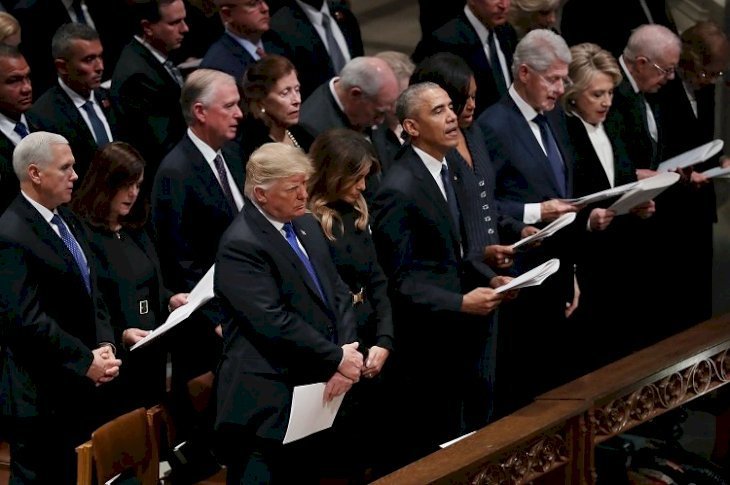 Source: Getty Images
FLOTUS was looking down while POTUS was standing silently doing nothing. As soon as people watched it, they took to Twitter to share their thoughts and send backlash to the Trumps.
Keith Boykin, a CNN commentator, shared a clip showing the exact negative moment with the following caption: "This is your 'Christian' evangelical president." So far, the video has almost 4 million views and many retweets.
PEOPLE'S REACTION
A Twitter user set clear that the Obamas and the Clintons, who served to the country for eight years, were still exercising respect and diplomacy while Donald Trump was "doing nothing."
Another person tweeted that Donald was as Christian as Stephen Hawking was. A third user wondered how POTUS could say the Creed when "he believes himself to be God."
"I am surprised that people are surprised. He said he has never asked God for forgiveness for anything and used the National Prayer breakfast to make fun of Arnold Schwarzenegger. He is not a God fearing man," added another person.
One of the users found interesting the fact that Donald was not even trying to look like he was praying. People even joked about it saying that POTUS probably thought that the Apostle's Creed was "that new Rocky movie."
BUSH'S DEATH
George H.W. Bush, the 41st president of the US, passed away on November 30 at the age of 94. One of his children, former POTUS George W. Bush, released a statement soon after his father's passing.
"Jeb, Neil, Marvin, Doro, and I are saddened to announce that after 94 remarkable years, our dear Dad has died. George H. W. Bush was a man of the highest character and the best dad a son or daughter could ask for."
Please fill in your e-mail so we can share with you our top stories!