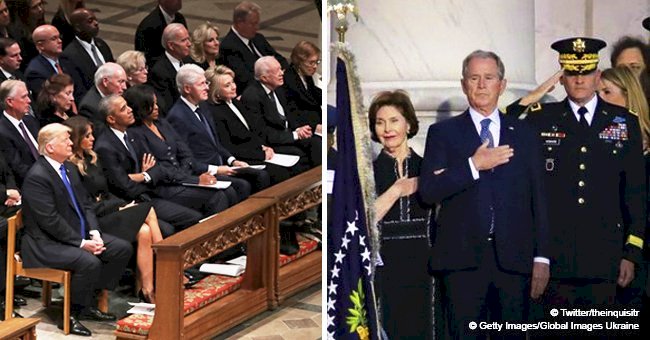 All 5 living US presidents and first ladies attend George H.W. Bush's funeral service
All five living U.S presidents and their spouses were present to honor the late George H.W. Bush at his funeral service in Washington D.C. on Wednesday.
The Washington National Cathedral played host to a slew of world leaders from all over the world, including all the past and present presidents of the United States.
Former presidents Barack Obama, Bill Clinton and Jimmy Carter all sat on the first pew with their respective first ladies, Michelle Obama, former Secretary of State Hillary Clinton, and Rosalynn Carter.
The deceased's son, George W. Bush, who is also a past president, was also present but sat with the rest of his family.
The current president Donald Trump and his wife Melania came in after the rest were seated and shook hands with the Obamas before taking their places at the end of the pew.
As seen on a live feed from the ceremony, the Trumps did not acknowledge former President Clinton and his wife and while the former president simply wore an amused smile, Hillary, who lost to Trump in the 2016 presidential election, reportedly ignored their presence.
Bush also came in later to welcome all the presidents and their first ladies. His handshake for Michelle was a special affair, however. Bush reached into his pocket for a candy which he handed to the former First Lady.
Michelle and Barack could not hide their amusement, especially since it was only three months ago that Bush and Michelle went viral for the same thing.
Bush, 72, eulogized his late father with heartwarming words, describing him as a man of "integrity."
"[He] showed me what it means to be a president that serves with integrity, leads with courage and acts with love in his heart for the citizens of our country."
The ceremony also had in attendance other dignitaries like German Chancellor Angela Merkel, Prince Charles, Polish President Andrzej Duda, King Abdullah II and Queen Rania of Jordan, and Australian Governor-General Peter Cosgrove, among others.
After the state funeral, Bush's body was flown to his presidential library at Texas A&M University where he will be laid to rest beside Barbara Bush, his wife who died in April, and their daughter, Robin, who died of leukemia at the age of three.
The late president died on November 30 in his Houston home. He was 94 years old.
Please fill in your e-mail so we can share with you our top stories!