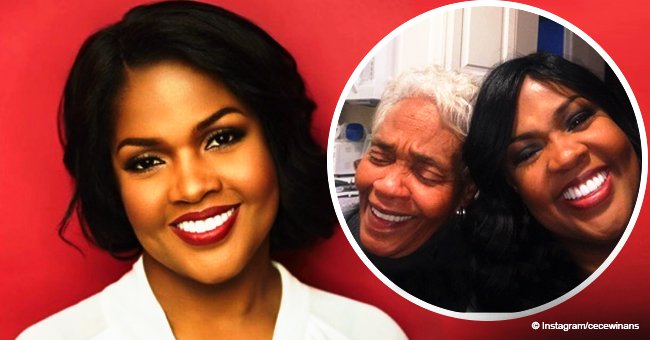 CeCe Winans glows with happiness in photo with her happy-looking mom who is also a gospel singer
Gospel singer CeCe Winans recently took to Instagram to share a pic with her mother, Dolores Winans, who's also a singer.
The 54-year-old gospel star knows how to have a good time, and she makes sure everyone surrounding her does as well. Her mother, Dolores Winans, could affirm that with one of the most recent pics CeCe shared to Instagram as proof.
In the shot, the adorable mother-daughter duo put their heads together while laughing in delight. CeCe gave the camera her best smile while looking straight at it, but Mom Winans was busy laughing to open her eyes and look at the camera.
"Having a great time with the Best Mom in the world!! I love to see and hear her laugh!! #mymom," Winans captioned the stunning pic.
Fans took over the comment section to gush about the Winans women.
One wrote: "This is so beautiful CeCe, your children will also make u laugh," another added, "Every Mother and Daughter should laugh together, a day in his Courts is better than a thousand elsewhere," and a third one added, "How wonderful! Mom Winans is looking FABULOUS and so are YOU! Glory to God."
A TALENTED FAMILY
The Winans family has been in the music industry since the '80s, and they're have raised some of the most successful gospel singers of the past decades.
Dolores Winans, better known as Mom Winans, raised ten children alongside her husband, David. Impressively, all of their kids are musicians
CeCe, the eighth child, jumped to fame in a duet with her older brother, Benjamin "BeBe" Winans, but after winning three Grammy Awards, one platinum album and many more accolades, they went their separate ways in 1994.
GROUNDED IN HER FAITH
Then, CeCe started a successful solo career that has earned her the title as the best best-selling female gospel artist. She has sold over 12 million records worldwide and won 12 Grammy Awards.
However, CeCe remains humble and grounded, and she owes everything to her faith. "I've lived long enough to know – and surely you don't have to be 40 or over to know this – but God's right all the time," she said in an interview a few years ago. And continued:
"When it comes to my husband, my children, my family, what you see is what you get. I don't live two different lives. I believe the Word. God said, 'Be holy as I am holy because without [holiness] no man shall see the Lord.' I believe that, so I'm striving to be holy whether I'm onstage or not."
MOM WINANS' HEALTH SCARE
CeCe, who had to adapt to social media and now communicates with fans like the rest of the world, recently made a Facebook Live to thank everyone for their prayers and support after Mom Winans spent a few days in the hospital.
She didn't go in specifics about the cause that led the matriarch to the hospital but said:
"My mom is doing well. Thank you so much for praying for her. She's doing really, really good, and I'm so grateful."
And despite the health scare, Winans assured fans she remains positive and doesn't entertain any negative thoughts.
"Whenever we leave here, whenever it's time for any of us to leave here, we don't have to worry," she said.
"We don't have to be afraid, because we know we win. We live while we're here. We win [and live] in victory while we're here. And when we leave here, to be absent from the body is to be present with the Lord."
However, Winans believes her mother has a very long life ahead, and as long as she keeps laughing, she's just added more vitality to her life.
Please fill in your e-mail so we can share with you our top stories!