Stories about President Trump's controversial moments at Bush's funeral finally fact-checked
Wednesday was the funeral for former President George H.W. Bush at the Washington National Cathedral. His service was attended by all 5 living US presidents.
The current president, Donald Trump came under fire for certain assumed behaviors at the funeral. They have been fact-checked and explained below.
As George H.W. Bush's casket was carried into the Washington National Cathedral, images showed President Donald Trump with his hands rested on his sides. Most of the people had their hands over their hearts as the casket passed by.
However, fact-checking website, Snopes, has debunked this accusation. They found video footage that showed Trump resting his arm against his heart as the casket passed his pew.
President Trump and first lady Melania Trump take their seats in the Washington National Cathedral.

Handshakes from Barack and Michelle Obama, but no greeting from Bill and Hillary Clinton. https://t.co/YsVdNOQqBj#Bush41 pic.twitter.com/975HSqLOSs

— Dan Linden (@DanLinden) December 5, 2018
For more on this story go to our Twitter account @amomama_usa. The president only dropped his hand shortly afterward while many attendees in the front row kept their hands over their hearts until the casket came to a rest.
Trump also placed his hand over his heart as the casket was carried out of the cathedral when the services were done. The president was criticized for this because there's an assumption that government officials and civilians are expected to place their hands over their hearts during certain moments of a state funeral.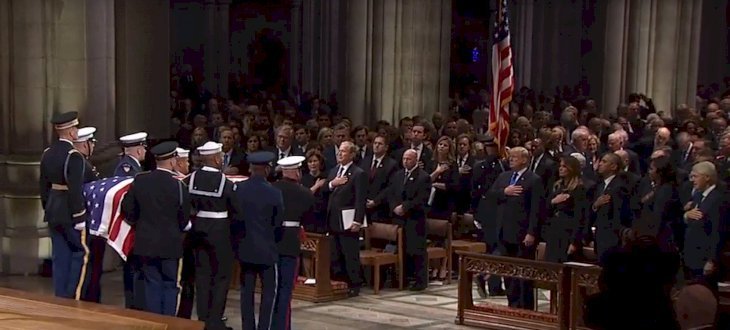 However, a former government official involved in protocol revealed that although former presidents and other civilians might engage in the hand-over-heart gesture as a casket passes by, the action was mainly directed at the US flag draped over the casket and not at the deceased person.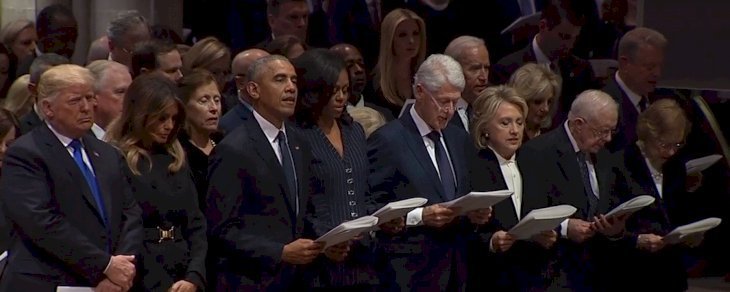 Another story about Trump at the funeral was the avoidance of former President Jimmy Carter. Many reports stated that the current president made no effort to shake hands with Carter.
However, The Washington Post reported that the former president was the one who actually avoided Trump. They reported that Carter looked at his watch to avoid shaking Trump's hand.
Another fact that is true is that the current president also failed to recite the Apostles' Creed prayer during the funeral. The Christian was ignored by Trump and first lady Melania Trump.
This is your "Christian" evangelical president. pic.twitter.com/u0478FoSyR

— Keith Boykin (@keithboykin) December 5, 2018
Video from Bush's funeral showed nearly everyone reciting the Apostles' Creed, including former all the former presidents. However, Trump had a program in hand but chose to stay mute.
His wife didn't have a program and was seen standing beside him quietly.