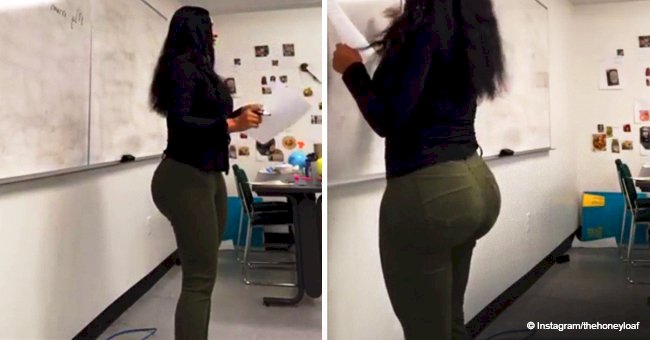 College teacher gets body shamed over her voluptuous body after video from classroom emerges
A college teacher recently found herself the subject of public body shaming after a video from her classroom went viral. Body shamers mocked her voluptuous body.
Nerissa Reaves is an educator and college professor. She recently went viral on Wednesday, unfortunately, it was not for her teaching prowess or new teaching method.
The teacher found herself being ridiculed because of her body. Reaves does a live feed of her class and someone took a clip out of the feed and created a video.
In the video, Reaves is teaching a standard lesson to a group of college students. However, her dressing and body shape seems to be more interesting to viewers.
In the comments section of the video, people tagged The ShadeRoom. They went on to re-post the video.
Users took to the comments section on both Reaves page and on TheShadeRoom to argue about Reaves dressing. The discussion swung back and forth between whether or not Reaves was "dressed appropriately."
The young lecturer was fully clothed. She wore a pair of jeans paired with a sweater that showed almost no skin at all.
"Forgive me for not wearing baggy jeans from the 90's. Where would I even buy those? Tons of professors at my school [wear] jeans and heels. Yes, I understand that my shape causes a lot of attention on social media but in real life it's a bit different," wrote Reaves in response to the commenters.
According to Reaves, while she may be a teacher but since she teaches at a university she is teaching adults. She does not need to follow a strict dress code as she will not be influencing minors.
Besides teaching, she is also a model. She uses her social media platforms to promote her life and brand.
The brilliant lecturer is also the founder of an online school. According to her website, the school is named Northeastern Ascension Academy.
"It is is a bit different that I'm a teacher who also has a social media presence and models? Sure. I'm sure that's quite unique because that's not something you see often. However, that's what makes me who I am-my range, depth and multi-faceted capabilities. I think it's awesome that I'm not like every other teacher and that I can't be boxed into categories traditionally defined by society." continues Reaves
The trend of policing women's bodies is still a growing one. People feel entitled to tell women how they should dress especially women who are fuller figured.
In a similar story to Reaves, a fourth-grade teacher from Atlanta was labelled the sexiest teacher alive. She was given the accolade for her "sexy selfies" on her Instagram.
However, body shamers quickly began question if she dressed appropriately for a teacher or if she was qualified enough simply based on how she looked.
Please fill in your e-mail so we can share with you our top stories!