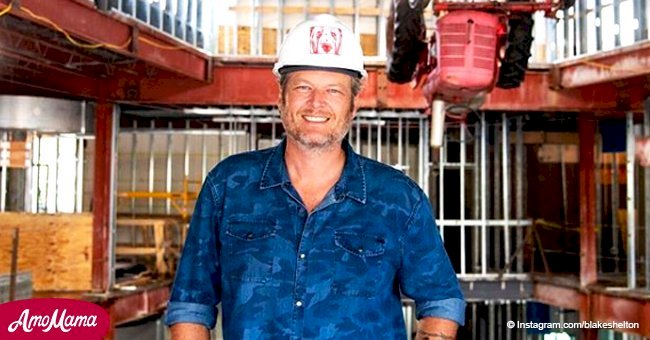 Blake Shelton opens up about his first job that made him 'want to be a country singer'
The popular "Voice" coach opened up about the first job that somehow turned him on the path of becoming the iconic country singer he is today.
Speaking during a special interview with People about a new series "Voice Coaches on Blast," 42-year-old Blake Shelton revealed that he once used to roof houses in Ada, Oklahoma, which is also his hometown.
The country icon added that he continued the job for about two summers, but in the course of that time, the job made him want to be a country singer.
Shelton revealed about his job during a rapid-fire styled interview, in which he also talked about several of his other "first" experiences and favorites.
Follow us on Twitter to learn more.
He also revealed that country band Sawyer Brown's concert was the first-ever concert he attended. Surprisingly, the first record that he bought happened to be a rock album rather than country.
Shelton said that the first record he bought with his own money was the 1977 classic, "Cat Scratch Fever" by Ted Nugent.
He further revealed that a GMC stepside pickup truck was his first-ever car.
The veteran "Voice" coach also stated that "deer hunting" was his favorite hobby. Similarly, his favorite sports team is the Arizona Cardinals and the thing he loves the most to cook is "nachos."
Shelton was also questioned about his most used curse word, which he answered honestly but was censored in the interview clip.
In the interview, Shelton opened up about some of the surprising details about his life that we hadn't heard yet.
However, there are many other lesser-known facts about the legendary singer that are rarely talked about. An article on The Boot wrote about some of these rare facts.
One of the most surprising things about Shelton is that he once used to sport a long hair in the style of a mullet. However, not many remember it because he always donned a cowboy hat in the first few years of his career's beginning.
In another surprising revelation, the "Voice" isn't really the first reality TV competition that he has been a part of. He previously coached on a show of similar style named "Clash of Chorus."
Very few people know that the singing legend has derived his amazing vocal talent from his mother, Dorothy Shackleford, who is a gifted country singer.
Please fill in your e-mail so we can share with you our top stories!