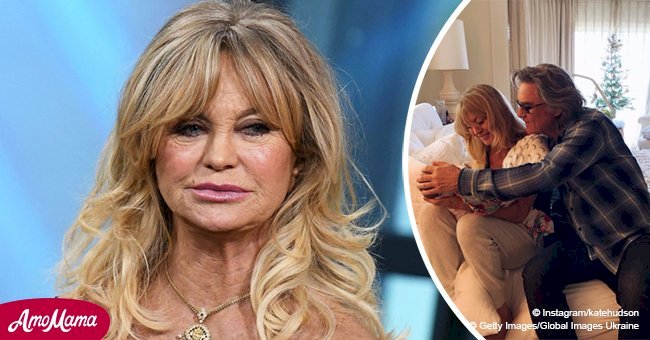 Goldie Hawn pictured in a sweet photo cradling her two-month-old granddaughter
Goldie Hawn continues to let the world know how proud she is to be a grandmother to the family's new addition.
The actress's daughter shared a heartwarming picture of Hawn and partner Kurt Russell. In it, the two lovingly looked down at their new granddaughter. The post can be found below.
Hawn's daughter Kate Hudson welcomed her first little girl on October 2. Since then, both she and her mother have continuously put the baby girl on display.
Follow us on Twitter for more @amomama.
In the photo, Hawn, 73, is cradling baby Roni Rose as she and Russell sit on their bed. Russell, 67, also has his hand placed gently over the child's head. Both are smiling at her.
Hudson captioned the shot:
"Grandma and Grandpa duty... or should I say Mr and Mrs Claus. #IKnewIt"
Hudson was referencing the couple's new roles on the Netflix holiday film, "The Christmas Chronicles" which was released in November.
The movie featured the two as Mr. and Mrs. Claus. For fans, it's a long time coming to see the pair together on-screen again.
The last time was way back in 1987 when they acted in "Overboard." This came four years after the pair got together.
Since then, they have become one of Hollywood's long-standing couples. The pair welcomed only one child yet successfully co-parented children from previous marriages.
Throughout their relationship, they have been hit with rumors of a "split" several times. Russell addressed the most recent one last week.
After talks that the couple gets "very jealous" and they would be unable to "come back from this," Russell was interviewed.
While promoting the new flick, he spoke of family and shut down the allegations head-on.
"I very rarely worked when I knew Goldie was going to be working. And vice-versa. Which meant we could be together. I never thought that what the business could provide would ever take precedence over us."
It looks like negative gossip also won't be overshadowing the actor's attention to his family.
He revealed how he turned down a role just to be with the kids while Hawn worked:
"That big movie I turned down came at an age when they really needed one of us around.... when you're a teenager you need Dad to be there, to say you're going to be home at 11.30."
We wish the family well and sure hope little Roni enjoys her first Christmas. She should since Russell said that the holiday is "huge in [their] family."
"Santa is the centerpiece of Christmas, it is the one time of the year that we are all able to get together for a good, long period of time, and have all of the things that all families have."
Please fill in your e-mail so we can share with you our top stories!