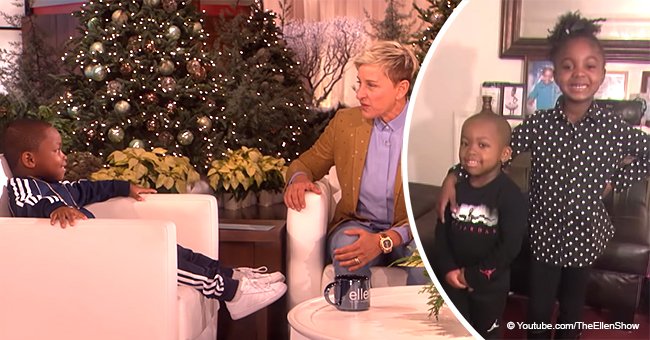 Viral dancer Tavaris Jones, 6, returns to Ellen & reveals he wants to 'pay his girlfriend's bills'
Tavaris Jones, the viral sensation that's been stealing hearts with his dance skills and sense of humor, visited Ellen DeGeneres on her show once again, and as a usual, he delighted the audience with his charming personality.
Tavaris Jones is just 6, but he's already a worldwide superstar. The adorable boy first earned attention when a clip of him dancing in his garden went viral two years ago. Subsequently, Ellen invited him to her show, and the rest is history.
Jones has danced in NBA games, mostly when the Cleveland Cavaliers are on the court, has visited numerous newsrooms, and other variety shows. He even traveled to Australia a few months ago to make a special appearance on "Little Big Shots."
Now, he made a triumphal return to the show that sent him to the spotlight, and he proved that he's a fan favorite to Ellen's audience.
AS CHARMING AS EVER
The last time Tavaris visited the show he was about to graduate from kindergarten and revealed to Ellen that he wants to be a dad when he grows up.
When asked why he simply stated, "because I'm sweet." However, he later confessed that he wanted a "human car" because "dads can drive."
This time around, Jones revealed he's doing great on the first grade and earning all A's on his classes. He also confirmed that he has a girlfriend, a second grader, and that they have been together for two years.
But in true Tavaris' nature, he surprised everyone when he blurted out "I'm going to pay her bills." Astonished, Ellen asked "you're going to pay her bills? What kind of bills does she have in second grade?" to which Tavaris replied "A lot," making the audience laugh instantaneously.
DeGeneres also brought up the boy's appearance on "Little Big Shots," asking him if he had met Lil' Mushroom, a Chinese girl that also went viral for her dancing skills. "I think she's a better dancer than me," Tavaris stated, earning a chorus of "awws" from the studio.
However, Ellen made sure to assure the boy that he's just as great of a dancer as Lil' Mushroom, but they have different styles. Then, Jones showed why he's such a sensation with an entertaining choreographed performance to Migos' "Stir Fry" that left the audience on their feet.
LITTLE BIG SHOTS
Three months ago, Tavaris pocketed the Australian audience too, dancing to Ayo & Teo's "Lit Right Now." Then, he got to sit with host Shane Jacobson in the big red couch to talk about what his favorite superpower: flying, his favorite place in the world: the grocery store, and what he thinks about his mom twerking: he doesn't like it.
Jones stated he visited the Zoo and smelled a Koala, and then proceeded to embarrass his mom by revealing she "farts" all the time and he finds it annoying.
There's no doubt about Jones' talent and shining personality, he keeps getting better and better with practice, so fans are hoping to see more of the boy in the future.
Please fill in your e-mail so we can share with you our top stories!