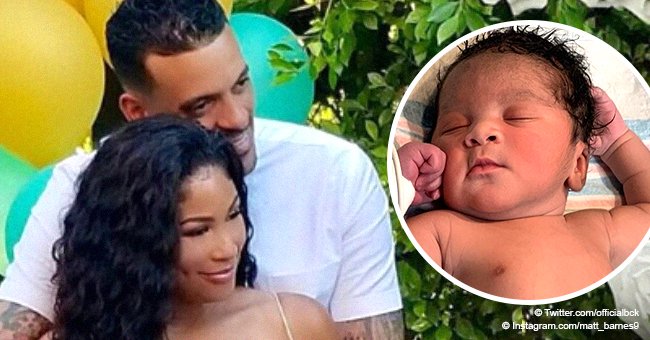 Matt Barnes and girlfriend Anansa Sims welcome their 1st baby boy
Matt Barnes welcomes his third son after claiming victory in a custody battle with his ex.
Matt Barnes and his girlfriend Anansa Sims will be spending the holidays with a brand new baby. The couple welcomed their first child together on December 7, a healthy boy they named Ashton Joseph.
The little one, nicknamed AJ, weighed 8 lbs 13 oz when his mother, daughter of supermodel Beverly Johnson, gave birth to him. His first photo was revealed via an announcement posted by both parents on their social media accounts.
"Just in time for the holidays," the proud father wrote to accompany the snap that featured his newborn sleeping shirtless in a hospital cradle. His arm appeared attached to a monitor as a cord is visibly connected to it. The little boy with a head full of hair slept soundly during what appeared to be his first moments of life.
Matt also revealed his baby's name in his caption along with his weight and height, 22.5 inches.
Meanwhile, Anansa described her son as "A Gift from God" in her post before revealing his birth details and declaring, "I'm so in love."
ANTICIPATING HER BABY'S ARRIVAL
AJ's birth just came days after his mother shared a photo of her maternity shoot where she stripped naked to reveal her glorious baby bump. She posted the commemorative photo on her Instagram and wrote,
"Just when you think you know Love, something little comes along to remind how big it really is."
BABY MAKES SIX
Anansa is already a mother to three children with her former husband, David Patterson. During her baby shower in October, she revealed though that she and Matt go way back. The couple apparently met in college but only fell in love decades later.
MORE ABOUT AJ'S SIBLINGS
Matt is likewise a father to 10-year-old twin boys with his ex-wife, Gloria Govan. He was recently awarded sole custody of the children along with a restraining order against Gloria running until 2020. He accused his ex of endangering their children during a Labor Day altercation. He alleged Gloria became aggressive by using her car to prevent Matt from taking their children with him. The incident almost hurt one of their sons on the shoulder.
Please fill in your e-mail so we can share with you our top stories!