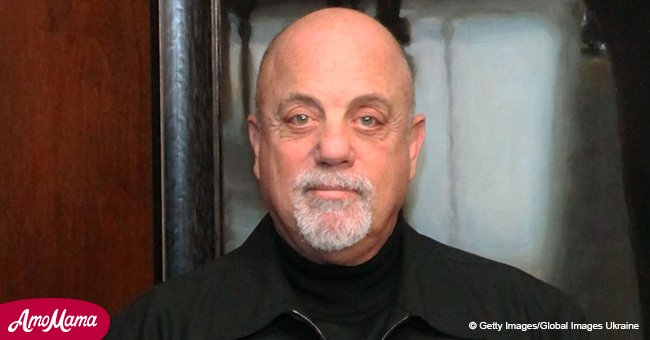 Billy Joel banned the sale of front row tickets to benefit 'the real fans,' not the rich
In an exclusive interview, singer Billy Joel explained why no one is permitted to buy front row tickets to his concerts – and it's for a good cause.
Joel, 69, who has been a mainstay in popular music for over four decades, told "Billboard" that they hold the front row tickets because of the "scalpers."
"We never sell front rows. We hold those tickets at just about every concert," he said.
The "Just the Way You Are" singer explained that scalpers would sell the front row tickets for high prices. "Our tickets are cheap, under $100, some in the $80s, the highest is about $150," he added.
Follow us on our Twitter account @amomama_usa to learn more.
Joel, commonly nicknamed the "Piano Man," was very annoyed thinking that his fans couldn't enjoy a front row seat at his concerts because of them.
The legendary singer said: "I'd look down and see rich people sitting there, I call 'em 'gold chainers.' Sitting there puffing on a cigar, 'entertain me, piano man.'"
"They don't stand up, make noise, sit there with their bouffant haired girlfriend lookin' like a big shot. I kinda got sick of that, who the (heck) are these people, where are the real fans? It turns out the real fans were always in the back of the room in the worst seats."
Knowing that his dedicated fans were always in the back of the concert venue in the worst seats, Joel did something about it.
"We now hold those tickets, and I send my road crew out to the back of the room when the audience comes in and they get people from the worst seats and bring 'em into the front rows. This way you've got people in the front row that are really happy to be there, real fans."
Joel continued that they have tried to figure out how to beat the scalpers for many years.
"You can't fight that secondary market. There used to be anti-scalping laws and they let them lapse from the books. My theory is there's a lot of tax revenue in those secondary ticket markets, these guys selling tickets for $500 to $1,000 gotta pay tax on it, and a lot more goes to the government than there would be based on my ticket prices."
Joel said that he wanted to perform for younger fans because they make the best audience. Unfortunately, "it's just hard to get to them any more."
"I tell the audience every night, 'I hope you didn't pay more than face value on that ticket, because we ain't worth more than that, and you ain't gonna get any more than that.'"
Joel has been making music since the 1960s. He released albums throughout the 70s, 80s, and 90s. The singer produced 33 Top 40 hits in the US across the 20 years of his solo career.
In 1992, he was inducted into the Songwriters Hall of Fame. Seven years later, he was also inducted into the Rock and Roll Hall of Fame.
Please fill in your e-mail so we can share with you our top stories!