This father-daughter duo went viral because of their long natural hair
Benny Harlem and his daughter, Jaxyn went viral as far back as 2016, but it turned out their hair is not the only thing that binds this father-daughter duo.
Benny, an artist/model from New York and based in Beverly Hills, began getting attention for his Instagram photos that feature his voluminous hair.
Benny calls his hair a "crown," and it's something he shares with his princess, Jaxyn. The pair usually poses for pictures together, and often in striking costumes or with memorable themes.
In one post, Benny and Jaxyn coordinated in blue. While the father wore a turtleneck and African-print pants, Jaxyn stunned in a blazer and matching pants paired with a yellow turtleneck. She styled her huge hair in two puffs and held it in place with a blue headband.
Benny captioned the photo:
"The continuous rise of my daughter's confidence is what I'm committed to. Fatherhood is not a job… it's a duty. Serve the lady's [sic] in your life. The benefits are heavenly."
A February shot also showed the duo channeling a "Wakanda" theme complete with tribal paint. Since they went viral two years ago, Benny and Jaxyn have been interviewed and featured by countless media outlets online and offline.
HAIR SECRET
In one of such interviews with HuffPost's blog, "Life," Benny said that he maintains his hair and his daughter's by maintaining a healthy mind, body, and spirit. "I maintain a very clean diet, and I drink a ton of water both very important factors in the longevity of healthy hair," he said.
Benny also insists that there's no secret to their long hair. He explained to PAPER:
"We wash our hair every week. We make our own shampoo and stuff like that, which consists of natural [ingredients like] coconuts and certain berries and things. …A lot of it is positive self-image and great thinking. What we consume in our minds and our spirits has a lot to do with our hair as well. People might not believe it, but I really think that's the truth. …Other than the castor oil and coconut oil that we use, there's really no secret."
A FATHER'S LOVE
But beyond their identical hair, Benny and Jaxyn's mutual love and respect is what had followers flocking to the former's Instagram page.
Benny, who now has 542,000 followers on the social media platform, said he's proud to be his daughter's father and takes the responsibility seriously.
"We share a very honest relationship, and it means more to me every day to understand that she is looking to me for so much in her life that she has yet to live. I am excited to remain her anchor," the doting dad stressed.
RAYS OF HOPE
Father-daughter images like Benny and Jaxyn's are reassuring, and that's precisely the feeling you also get from reading the story of Kevin Scruggs and his daughter Mackenzie.
Scruggs, a pastor/life coach, religiously interviewed his daughter on her first day in every class, and when the time came for her to graduate from high school, the finished product was mind-blowing.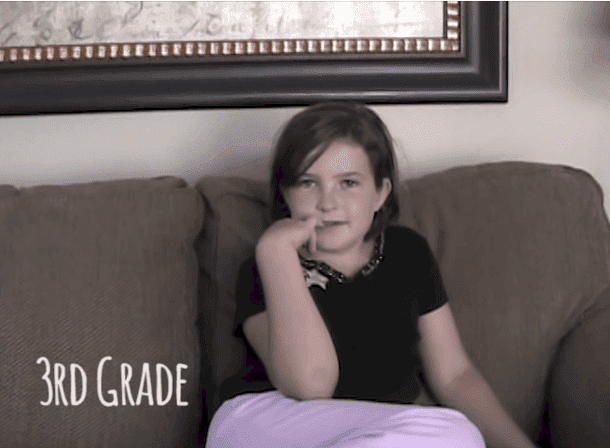 Let's just say, it was a mash-up of pure, undiluted love from a father to his daughter and it made millions across the world emotional.