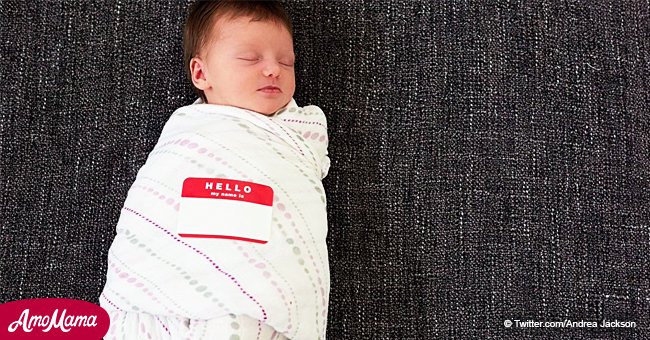 Mom cancels baby shower after friends and family ridicule her unborn child's name
A pregnant mother-to-be took to social media recently to berate her family members for making fun of the name she's chosen for her unborn son. Her post was shared on Reddit on Saturday.
Instead of sympathizing with her, Reddit user also made fun of the child's name.
An unnamed woman took to social media to announce that she was canceling her baby shower because her family members and friends weren't supportive of the name she'd given her unborn son. The woman revealed that the child's name was Squire Sebastian Senator.
Her post went viral online and was also shared on Reddit. The woman's lengthy post read:
"Dear Members of the Squire Sebastian Senator Babyshower (sic), I have a really important announcement to make. It brings me pain to have to tell you this, but I am cancelling the event."
For more on this story go to our Twitter account @amomama_usa. She revealed that she was going to text a few people who would be welcome to a smaller gathering.
The woman explained that she made the decision to cancel the event because her friends and family had been speaking ill of her unborn child. She stated that they were spreading "rumors and lies."
The mother-to-be clarified that she was not "crazy," "mentally unstable" or "drunk" when she chose her unborn son's name. She also explained that the three names were "only his first name."
The woman further stated that her son "will not be allowed to have a nickname, he is to be called by his full and complete first name." She explained that the name choice came about because her family was descended from a long line of "both squires and senators."
The woman wrote:
"If you look back in our family tree, the survival of this clan is literally rooted in squiredom. We are all related to senators too. This name conveys power. It conveys wealth. It conveys success."
She added that her son's name would be a revolution. The woman's post, which was initially posted on Facebook, ended with her calling her family "fake" and claiming the name choice would make her son "extraordinary."
People on Reddit weren't very supportive either. Many of them ridiculed her name choice with many feeling it was a bad name that would cause the child to get bullied.
Last month, another parent was ridiculed for naming her child Abcde Redford, 5. Traci Redford was ridiculed by a Southwest Airlines agent in Southern California who mocked her daughter's unique name, pronounced "AHB-sih-dee," when they were preparing to board a flight home to Texas.
Traci revealed that the gate agent at Orange County's John Wayne Airport had laughed at her daughter's name. The agent even took to social media to post a photo of the toddler's boarding pass.
Please fill in your e-mail so we can share with you our top stories!