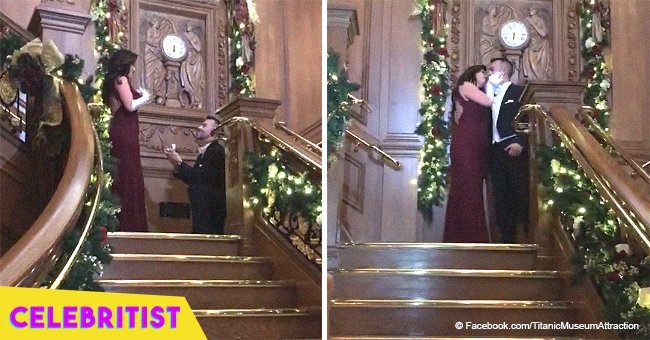 Houston man's proposal inspired by the 'Titanic' on a replica ship went viral in 2018
A Houston man melted hearts across the internet when he surprised his girlfriend with a proposal of her dreams, but he didn't expect to get a surprise as well.
Jeremy Brown and his girlfriend of six years, Mori Madrid, are both fans of the classic love tragedy, "Titanic," and fate made sure it was reflected in one of the most memorable days of their lives.
Brown initially planned to propose to Madrid in Aruba last year, but his grandfather died a month before the trip. After that didn't work out, he began the planning process all over, scouring through cabin options in Pigeon Forge. When he stumbled upon The Titanic Museum Attraction, Brown knew he had struck gold.
After putting everything in place -- from finding a replica "Heart of the Ocean" necklace to getting the same tuxedo Leonardo DiCaprio's character, Jack, wears in the film -- Brown got in touch with the museum.
Christina Collins, the establishment's wedding coordinator, told Knox News:
"Jeremy Brown called our phone room to set the proposal up. He was very precise on what he wanted. They both love Titanic, and he found out we do proposals, so we spoke a few months ago and he trusted us to help him do a magical proposal for his girlfriend."
In a six-minute Facebook video, the blindfolded Madrid is seen holding on to Collins who engages her in conversation about her thoughts. "I have no idea," Madrid confessed after Collins asks her what she thinks the evening is all about.
After a while, the sounds of Celine Dion's "My Heart Will Go On," and Madrid opened up to Fox17 about her feelings at that moment:
"I heard the music come on and thinking this is so beautiful. Once I opened my eyes I would be looking for Jeremy I just wanted him close."
Collins took off Madrid's blindfold and handed her a note from Brown. Taking a line from the movie, Brown wrote:
"Meet me at the clock. Make it count."
In a burgundy dress with cut-out detailing, Madrid sashayed to the top of the stairs to meet her lover. He placed the necklace around her neck and finally dropped to one knee to pop the big question.
Overwhelmed, Madrid said she could not hold in her emotions and admitted feeling like she was in the movie itself:
"It was almost like being in the movie yourself. It was just amazing. It just made me feel like the movie. It was so beautiful and unique, this was so above!"
Brown's surprise came much later, after the limo ride and private dinner he had ordered. While trying to pay the bill, he was told their expenses had been settled anonymously.
It was the perfect ending to their magical day!
KNOCKOUT PROPOSAL
Brown and Madrid's video was posted on November 9, and now has over 13 million views on Facebook. That's because everybody loves a sweet proposal story, like that of Eller and her boyfriend Pierce who went viral in October.
Pierce had planned to surprise his girlfriend with a proposal while she was playing with her Volleyball team. As it turned out, he ran toward her at the same time she was trying to hit a ball and ended up getting knocked to the ground. The hilarious moment is captured here.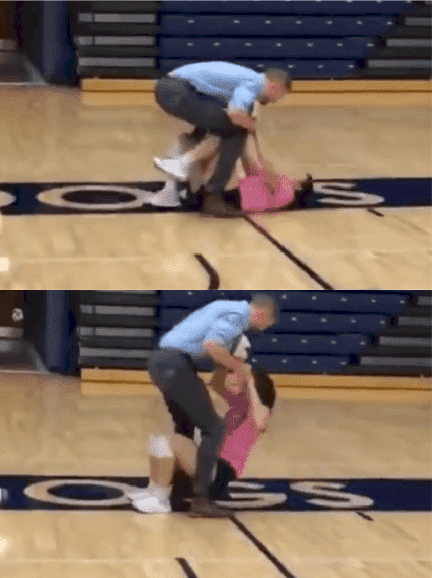 Facebook/Kyle Pierce
At the end of the day, knocked to the ground or swept off your feet, love wins.
Please fill in your e-mail so we can share with you our top stories!