Young girl performed the national anthem at a match and won the nation's heart
After winning a competition that the soccer club LA Galaxy created, Malea Emma, a seven-year-old girl, got the chance to sing the "Star-Spangled Banner" before one of the club's match.
Even though it was evident that the girl must have been a good singer to qualify for such activity, nobody expected that Malea would wow the crowd and players in the way she did.
A video that CBS released showed the girl's reaction when she learned that she had been selected to sing at the StubHub Center, which was attended by about 25,000 people.
A FANTASTIC PERFORMANCE
Not only the audience got gladly surprised with Malea's voice, but also the players of the Seattle Sounders and the LA Galaxy, including Zlatan Ibrahimovic, 36, who is known for being quite serious.
Well done you are the most courageous girl i have ever seen well done👌

— Joel Kalunga (@vincent_officia) September 24, 2018
When the girl hit the highest note in the entire song, the crowd erupted in cheers and applause, letting her know that she was doing a fantastic job. At the end of her presentation, Zlatan couldn't hide his smile.
You were amazing 🤩👏🏽👌🏽 pic.twitter.com/CDCQT2B1mJ

— Marcella (@TranceRevolved) September 24, 2018
ZLATAN GOT SURPRISED
Malea apparently became Ibrahimovic's good luck charm as he managed to score his 501st career goal and the 18th of the season. His team ended up winning the game by 3-0.
MVP of the game! https://t.co/eZ2WdQsVN7

— Zlatan Ibrahimović (@Ibra_official) September 24, 2018
He later took to Twitter to congratulate Malea, pointing out that the girl was the MVP (most valuable player) of the game. As soon as he did that, several people started a threat also praising the young singer.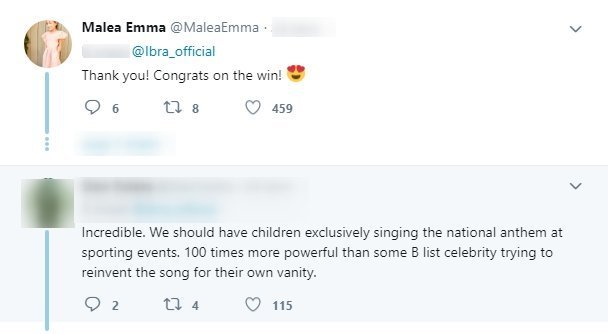 PEOPLE'S REACTION
Some of them set clear that only children should sing the National Anthem during sporting events as it was more powerful than "some B-list celebrities" who try to reinvent the song for their "vanity."

Others admitted that Malea was the most courageous girl for successfully singing such a hard song in front of a large crowd flawlessly.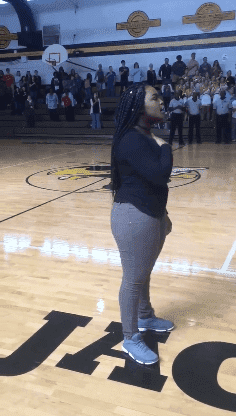 ANOTHER BEAUTIFUL PERFORMANCE
Something similar took place at the Central High School in Ashford, Alabama, when Christian Melton, one of the students, surprised everyone before a basketball game signing the national anthem without a microphone.
Everything was ready for the teenage girl to sing the "Star-Spangled Banner." Unfortunately, the microphone was not working.
While most people would have changed their minds, Melton sang anyways and, thanks to her beautiful and strong voice, the video went viral in no time. Everyone remained silent while hearing her rendition and, at the end of it, the crowd erupted into cheers.