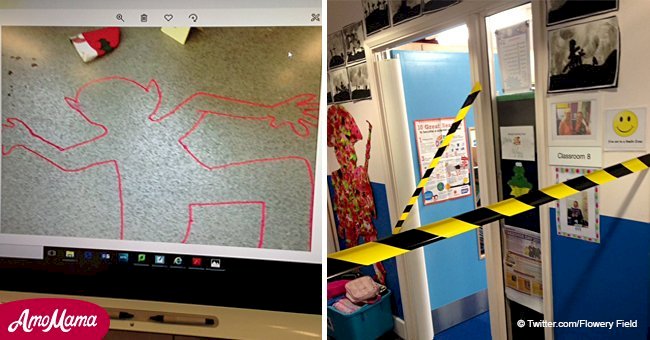 Parents outraged after kids solve 'murder' at primary school
Primary school activities usually include being creative, playing, learning, and being active. However, one school in Manchester decided to put a darker twist on this in the name of learning and creativity.
Flowery Field Primary School recently decided to give its students a unique writing exercise. For the exercise, a play was staged, and the students had to write about it.
The play centered around an elf who is murdered and the students had to complete the plot by producing a piece of writing that solves the murder.
Read more on our Twitter @amomama_usa.
REACTIONS TO THE EXERCISE
The play was not just on the stage itself, but the decor extended to one of the classrooms, which had blood marks on the walls and police tape cordoning it off. One child has reportedly been having nightmares as a result.
Parents were upset that children as young as eight years old were exposed to violence and had to participate to get marks. The murder theme was seen as being inappropriate for such young children.
The staff had a different take. The headteacher claims that the children thoroughly enjoyed the play and writing exercise, as it allowed them to pretend to be detectives.
IMITATION
Teachers need to be careful regarding what they do as they are an example for their impressionable students who can end up imitating them. This can be either negative or positive, depending on the context.
A toddler in Oregon started imitating the way his Muslim daycare teachers pray by lying on a mat, occasionally lifting his hands and head. His family found this adorable and posted a video of it on Twitter.
The video went viral and attracted many comments. There were those who also thought his actions were endearing, but others argued that it amounts to indoctrination on the part of the teachers.
THE TRUTH HURTS
The influence teachers can extend beyond morality. A substitute Year One teacher in New Jersey broke the news to her students that Santa Claus doesn't exist.
When most people hear this news for the first time they are upset and dismayed, parents complained to the school because their children are still at a sensitive age and are shocked by the information.
The principal issued a statement in which he apologized to the parents for all that the substitute teacher said to take the fun out of the festive season; including the fact that reindeer are unable to fly and elves and Santa Claus, both don't exist.
Please fill in your e-mail so we can share with you our top stories!