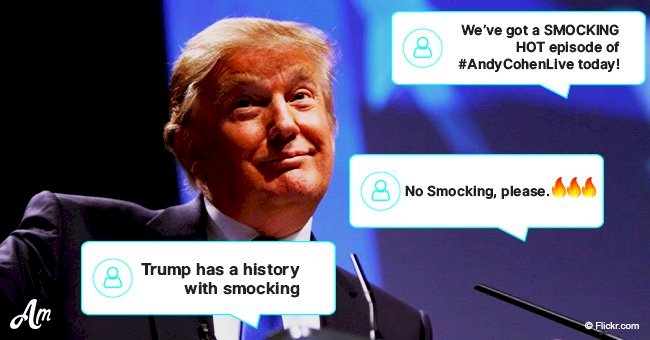 Trump made a typo tweeting 'smocking gun' twice, getting an avalanche of responses from celebs
President Trump inadvertently made a joke on Twitter and the internet is going crazy. It had to do with Russia and a "smocking gun."
Donald Trump quoted Fox News in a tweet on Monday morning. Since it came from the President, it was naturally viewed thousands of times.
The fact that Trump spelled the same word wrong twice, however, brought about tons of responses from celebrities and other Twitter users alike.
Follow us on Twitter for more @amomama.
The tweet read:
" 'Democrats can't find a Smocking Gun tying the Trump campaign to Russia after James Comey's testimony. No Smocking Gun... No Collusion.' @FoxNews"
Trump was referring to the investigation, led by Robert Mueller, into Trump's relationship with Kremlin during his campaign in 2016.
The tweet continued:
"That's because that was NO COLLUSION. So now the Dems go to a simple private transaction, wrongly call it a campaign contribution... "
The president posted another tweet which insisted that the allegations would call for a civil case. He then ended it by again referring to the situation as a "WITCH HUNT!"
Of course, internet users rushed to recreate the "Smocking gun" that Trump mention in the first part of his post.
Celebrities also flocked to Twitter to respond to the bizarre error. Mia Farrow posted a picture of an embroidered gun so that all would know it existed.
"Smocking gun," she captioned it simply.
Monica Lewinsky instead used the word as it was supposed to be understood in the post. She said: "No Smocking, please [three fire emojis]"
Andy Cohen also used "smocking," but it was to promote an upcoming episode of his show.
"We've got a SMOCKING HOT episode of #AndyCohenLive today! MILEY IS HERE!!! @RadioAndySXM"
Meanwhile, Zach Braff called out the President's tweet as an unlikely mistake considering it was written twice. He wrote:
"He can't spell smoking. Not a typo, he did it twice. He can't spell smoking."
Actually, Trump has apparently made the typo three times. Back in August, he tweeted a post saying, "we already have smocking gun about campaign getting dirt on their opponent, it was Hillary Clinton."
Trump was clearly happy with the news. Yet he was displeased when his former lawyer Michael Cohen cooperated with Mueller for the investigation.
Cohen divulged that there was contact between Trump's associates and Russia throughout the 2016 campaign.
A plea agreement revealed that the interaction related to a real estate deal the president was pursuing before gaining his title.
Cohen had previously "knowingly and deliberately" lied about the incident. His compliance means that Cohen will not be prosecuted, although he does seem to be feeling the wrath of Trump's words.
Trump said:
"Cohen is being a weak person and trying to get a reduced sentence so he's lying about a project everyone knew about."
Something else that everyone knows about is Trump's difficulties in opening umbrellas. The president memorably left an umbrella at the top of the stairs to the Air Force One back in October.
The black oversized umbrella was left fully open after a short attempt from Trump to close it. Later, someone else boarding the plane stepped around the umbrella as they entered.
The comical look of the umbrella flopping around in the wind was spread all over the internet at the time.
Earlier that same month, Trump again left many in confusion when he congratulated Princes Eugenie on her marriage.
It appeared to many that the president thought it was her husband Jack Brooksbank who was the member of the royal family.
The president wrote:
"Princess Eugenie of York was a truly beautiful bride yesterday. She has been through so much, and has come out a total winner!"
Most people attacked Trump's words, referencing her luxurious upbringing. Others pointed out that she has scoliosis that seriously affected her youth.
Some made note that the timing of the President's tweet was off as it came around Hurricane Michael's devastation to Florida.
Regularly, the President is making waves on Twitter, and if anything, it usually brings smiles or at the least, bemusement.
Please fill in your e-mail so we can share with you our top stories!