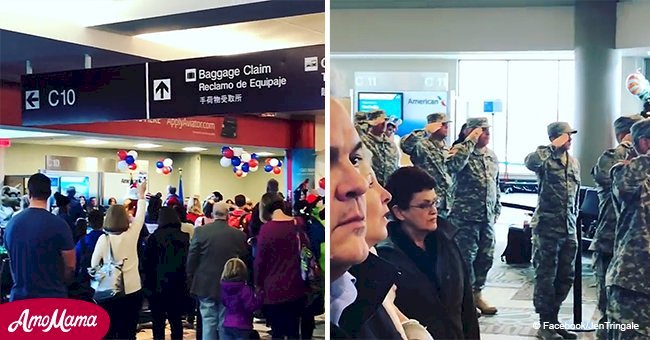 Passengers at Nashville airport stop to sing national anthem to honor fallen servicemen
On Saturday, Jen Tringale bore witness to a touching scene at Nashville International Airport as the entire concourse stopped to sing the national anthem in honor of the fallen servicemen, for a poignant reason.
All was business as usual regarding the daily runnings of Nashville International Airport until an airline attendance announced the presence of over a hundred special passengers and asked them to board their flight.
Jen Tringale was at the airport during that time and took footage of the touching scene, which she posted to Facebook later that day with a caption the explained the reason for the standstill:
"I walked out into the concourse to this scene @americanairlines was flying a plane full of children who had lost a parent in combat to Disneyworld on an all expenses paid trip, and they threw a party for them at the gate️."
Read more on our Twitter account @amomama_usa.
Now under the wing of Sinise's charity, the Snowball Express flies over 1,000 Gold Star children across the country on an all expenses paid trip on American Ail Lines to Disney World each December. Describing the scene around her in more detail, Jen went on to say:
"When they announced them over the loudspeaker, and they lined up to board the plane the whole airport stopped and sang the national anthem with the military present in salute. Most every person standing around, myself included was bawling at the sight of these kids and spouses who have paid so great a price for our country. To see all of this at Christmas time was so humbling. Seeing the general public in an airport stand still to honor these kids was simply beautiful."
The video only got posted a few days ago, but have garnered over 605,000 views.
The Reno-Tahoe Airport served as the backdrop for another show of appreciation in remembrance of those that lost their lives in service, on December 1.
When Southwest Airlines flight 2429 landed, about thirty-five veterans with their families got welcomed by airport officials and military supporters who honored them with music, a military salute in remembrance, Quilts of Valor, and Paws 4 Passengers therapy dogs.
In October a father got spotted honoring those that have given their lives for the country and the military personnel deployed away from home.
With his son deployed, 53-year-old Wayne Parfitt turned a favorite pass time into a display of gratitude. The Virginia resident went running with the American Flag held high a few times a week in honor and pride of the men and women serving their country.
On July 4, Wayne ran 17.76 miles in a symbolic run as well as celebrating his son's birthday.
Please fill in your e-mail so we can share with you our top stories!