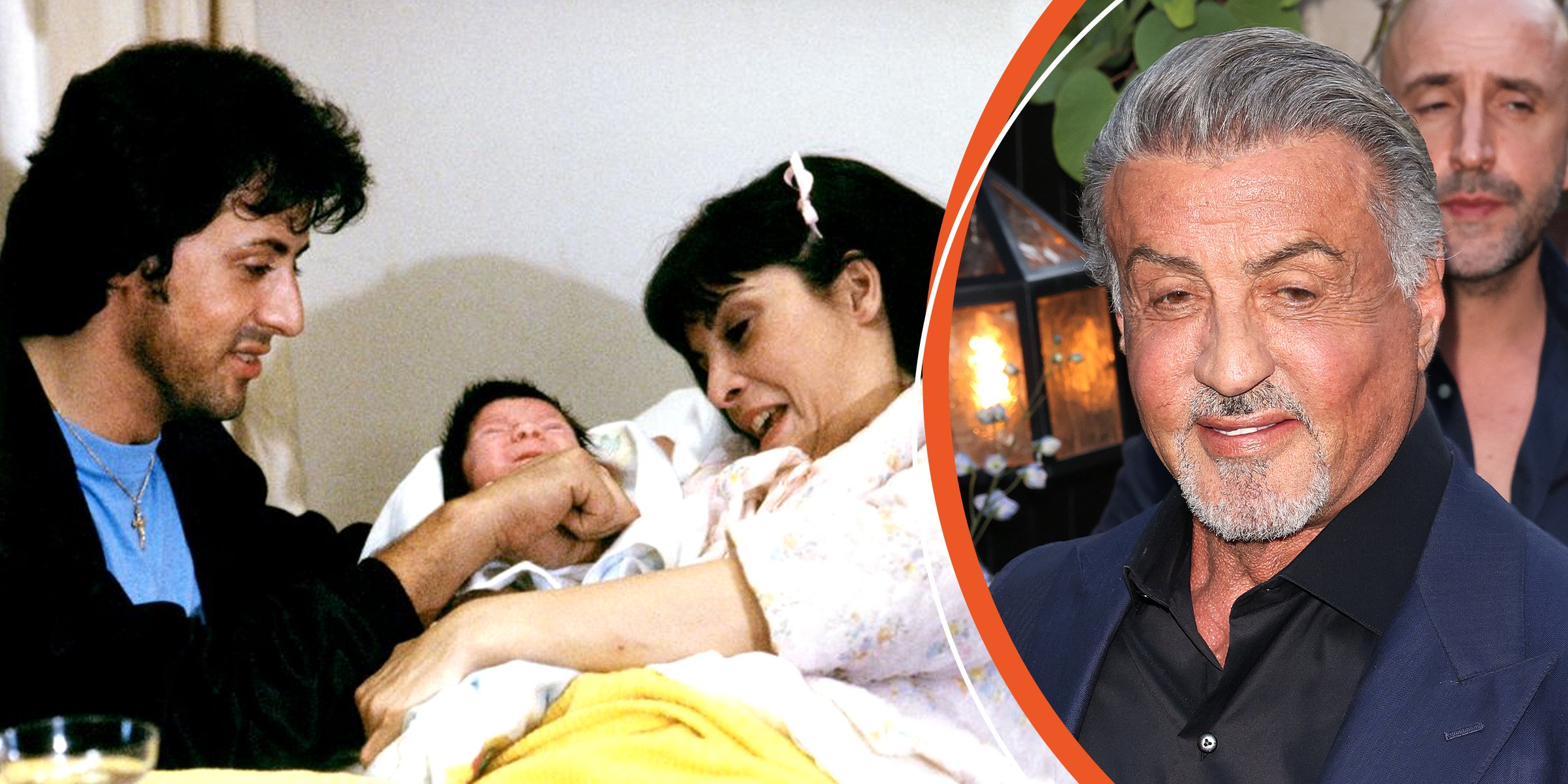 Getty Images
Seargeoh Stallone: Sylvester Stallone's Son Was Diagnosed with Autism & Lives a Private Life
Seargeoh Stallone is the son of Hollywood star Sylvester Stallone, but not many know about him. Following his autism diagnosis, Seargeoh was kept hidden away from the public eye.
Seargeoh Stallone is, still to this day, a mystery to many "Rocky" fans around the world. Although his father is a household name in Hollywood, thanks to all his action and drama films, the same can't be said for Seargeoh.
However, there are some known details about the actor's son, including his condition with autism and how it affected the Stallone family. Here's more about Seargeoh's life behind closed doors.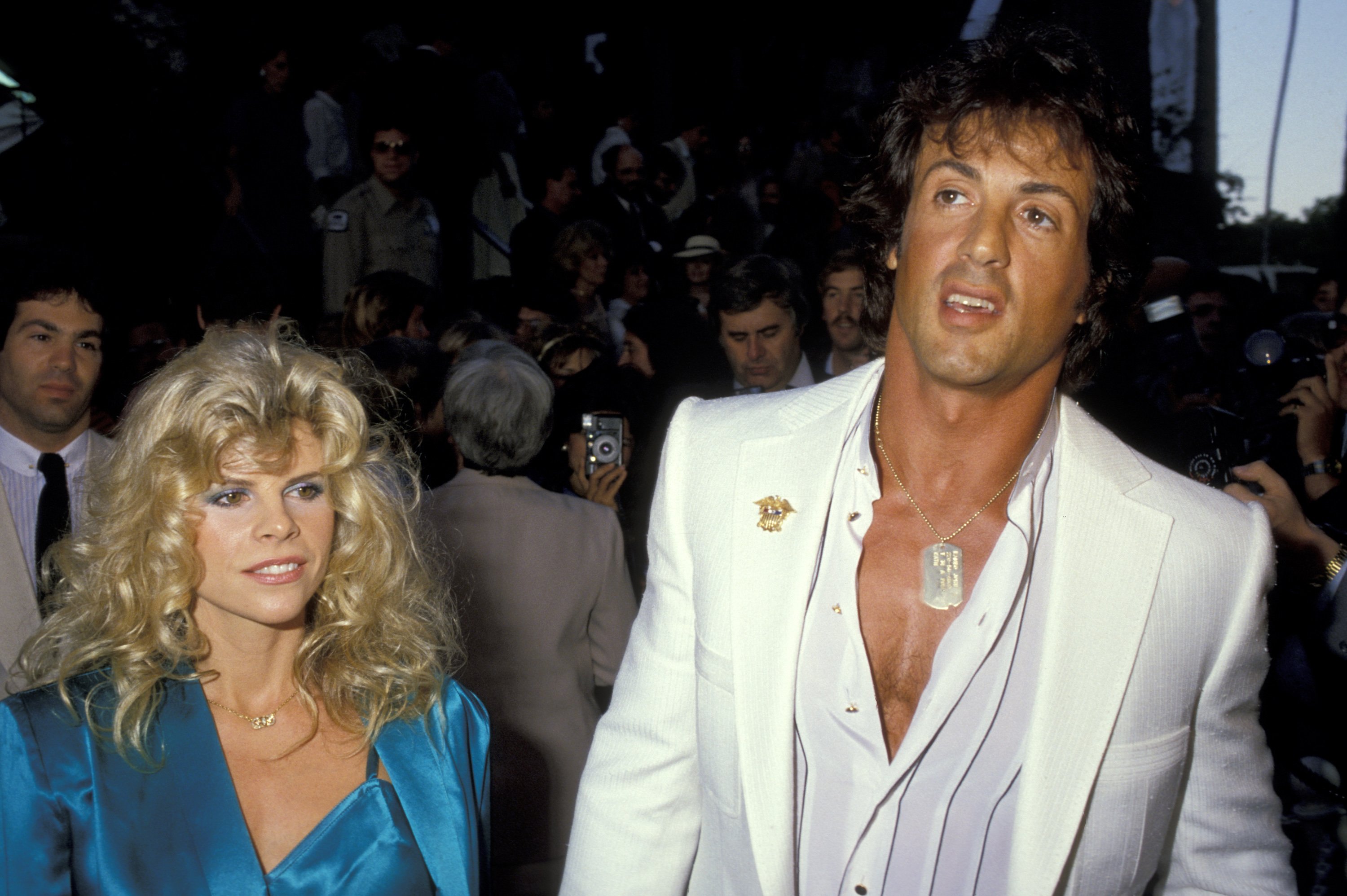 Sylvester Stallone and Sasha Czack Stallone at the "Ghostbusters" Los Angeles Premiere at Avco Theaters in Westwood, California, United States. | Source: Getty Images
SEARGEOH STALLONE IS THE SECOND SON OF SYLVESTER STALLONE
Seargeoh was born in 1979 to Sylvester and his ex-wife, Sasha Czack. His grandfather was Frank Sr. Stallone, an Italian-American hairdresser and polo fan, while his grandmother, Jackie Stallone, was an Astrologer and a promoter of women's wrestling.
Although he played the role of Rocky Balboa Jr. in "Rocky II," that was his last part ever since he was diagnosed with autism in 1982, at the age of three, putting a full stop on his career.
Seargeoh's parents tied the knot on December 28, 1974, but their relationship only lasted a little over a decade. On February 14, 1985, the couple decided to call it quits. Before the young boy was diagnosed with autism, his parents did not hide him from the world, but after the diagnosis, everything changed.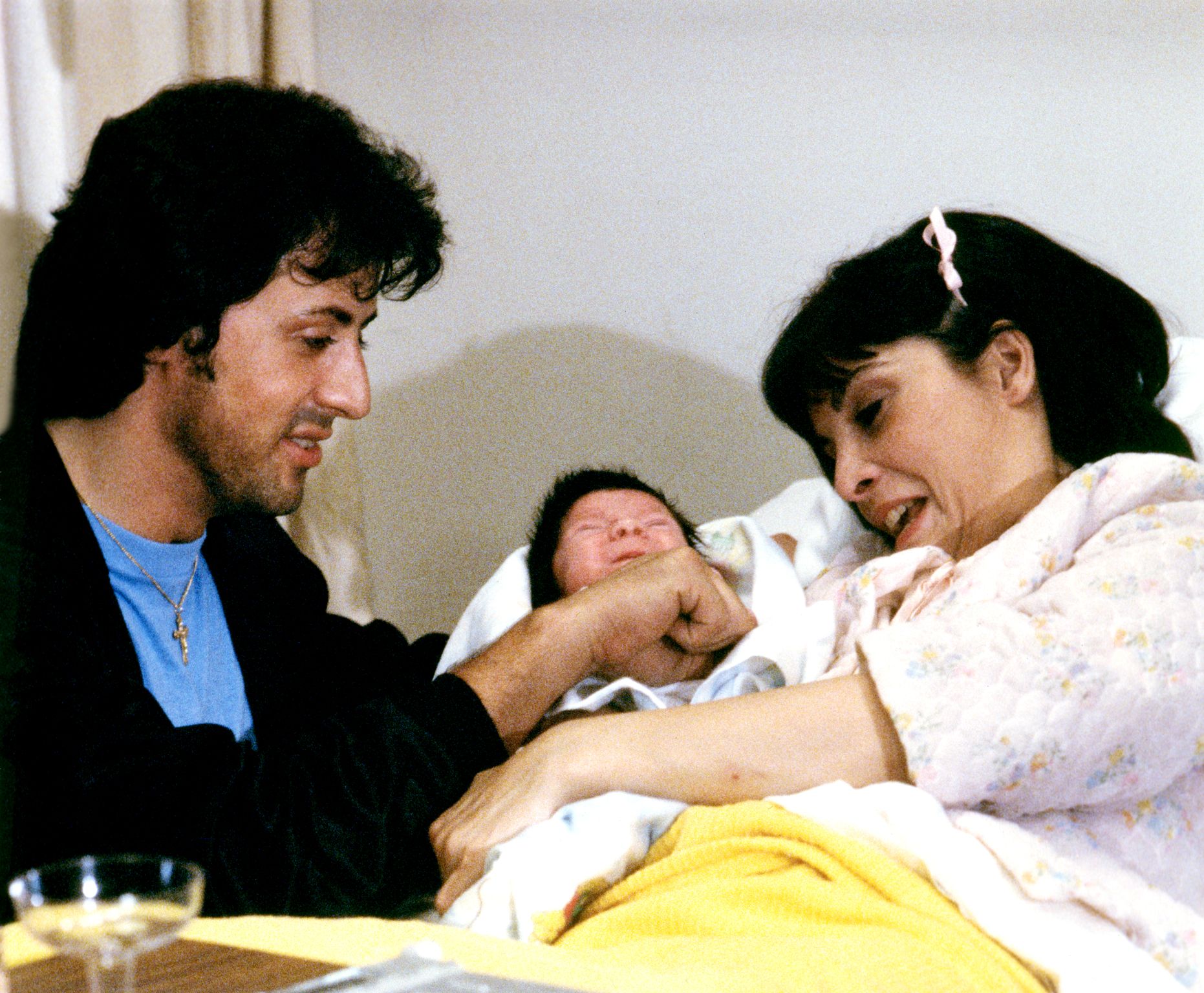 Talia Shire and Sylvester Stallone on the set of his movie "Rocky II." | Source: Getty Images
Suddenly, his parents wanted to provide him with private life, away from prying eyes. Since then, photos of Seargeoh have been challenging to come across.
Due to being away from the spotlight, many people started confusing him with his older brother, Sage Moonblood, who passed away at age 36 on July 13, 2012. It was initially inferred that he died due to a drug overdose, but it was later revealed that the cause of death was a heart attack.
After his passing, the Los Angeles coroner's office revealed that prescription bottles were found in the investigation, leading to speculation. Sage's friend, George Braunstein, described him as "very creative, energetic, and very full of life." He added:
"There was nothing dark or depressing, no problems, certainly no financial problems."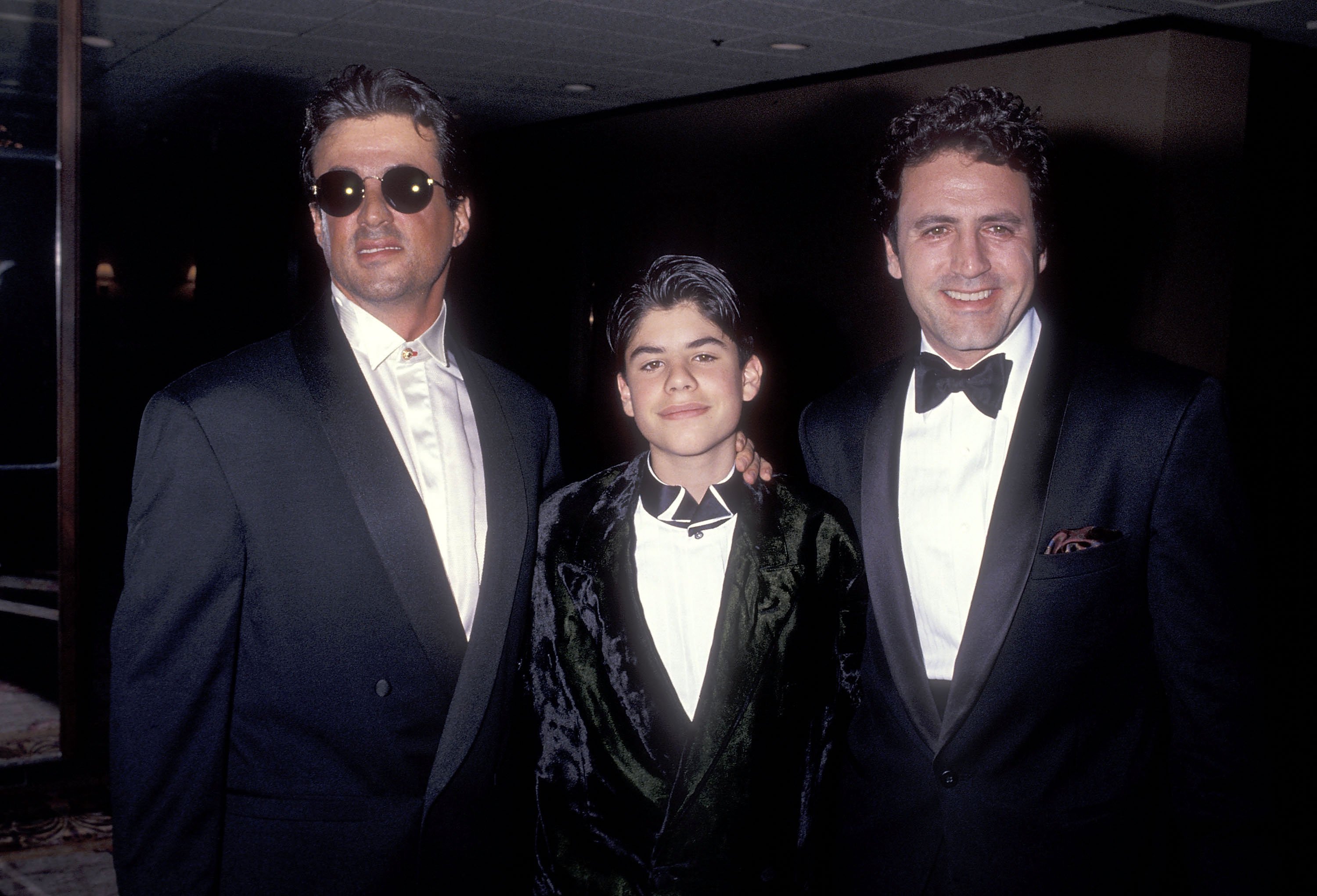 Sylvester Stallone, Sage Stallone and Frank Stallone during the California Fashion Industry Friends of AIDS Project Los Angeles Fifth Annual Fashion Show & Dinner Benefit Salute to Gianni Versace on February 13, 1991 at the Century Plaza Hotel in Century City, California. | Source: Getty Images
Sage was the first child of Sylvester and Sasha, who quickly became the "center of [their] universe." He also followed in the entertainment industry and appeared in his father's film, "Rocky V," as Robert Balboa Jr., the onscreen son of Sylvester. During his death, Sylvester appealed to the public to stop speculating about his son's demise.
"Because when a parent loses a child, there is no greater pain. Therefore I am imploring people to respect my wonderfully talented son's memory and feel compassion for his loving mother, Sasha, because this agonizing loss will be felt for the rest of our lives," he told E! News at the time.
SEARGEOH STALLONE'S AUTISM HAS AFFECTED THE LIVES OF HIS ENTIRE FAMILY
Seargeoh was a shy boy growing up, but his frequent silence began to worry his parents. Although he could write, draw, and repeat certain words, he was not one to talk.
When they took him to see a specialist, the actor and actress learned about his autistic condition. In a previous interview, Sasha shared their reaction:
"We both broke down. I knew that Sly couldn't get as involved because of his work. We do what we have to do. So I just said, 'Give me the money, and I'll take care of it.'"
As prominent people in the entertainment industry, the couple received unsolicited advice to enroll their son in a special facility. However, Sylvester did otherwise and cared for his son at home.
To help their son, the couple chose to adjust for Seargoeh and give the boy all he needed to improve, including homeschooling and therapy sessions. When Seargeoh reached ten years old, his mobility and speech improved. Following his diagnosis, the Stallones launched a research fund under the National Society for Children and Adults with Autism.
On February 14, 1985, Seargeoh's parents decided to go separate ways amidst his autism-related challenges. Despite their divorce, Sylvester and Sasha continued to shower their son with love and care.
"Sasha does the hard, in-the-trenches warfare," Sylvester said. "I use my film to have premieres that raise money for the fund." The two premieres, "Staying Alive" and "Rhinestone," alongside donations and fundraising events, have raised around a million dollars. Sylvester added:
"I believe any success in life is made by going into an area with blind, furious optimism. I am not the richest, smartest, or most talented person in the world, but I succeed because I keep going and going and going."
While the "Rambo" star continued his acting career, his ex-wife devoted her time to looking for Seargeoh's treatment. Sadly, the circumstances only created space between the two until they eventually divorced.
"Her dreams and aspirations have been re-channeled into dedicated research," he said. "She is a driver person in that area. All of her priorities are geared toward finding a cure. There is no fun in the future that way."
Due to his busy work schedule, Sylvester rarely had time to focus on personal matters. The distance from Seargeoh has been difficult, especially since they don't have a close relationship. Nevertheless, the "Creed" actor tries to go along with his son's interests, including drawing and working on puzzles.
Communication begins when Seargeoh trusts his father through activities. "He has shown an extraordinary memory, but he can't apply what he has learned," Seargeoh's father revealed.
Seargeoh had other milestones despite his condition, including being able to eat by himself and behaving, whereas other children diagnosed with autism are violent. Fortunately, there was no deterioration in his brain, giving hope for recovery.
His mother continues to give Seargeoh a normal life, such that he has his own room and makes purchases on his own. Hopefully, more information about him can be revealed in the future.
Please fill in your e-mail so we can share with you our top stories!