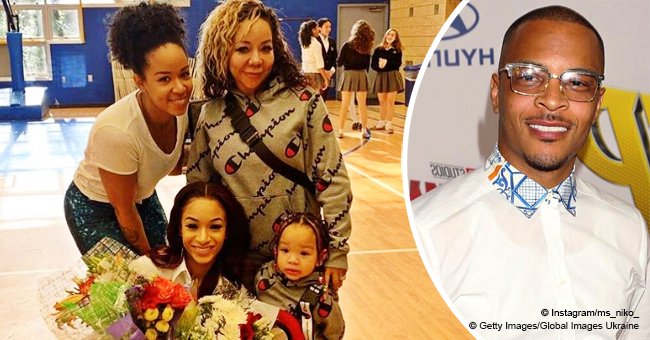 T.I.'s daughter Deyjah warms hearts, smiling with her biological mom & stepmom Tiny in photo

Ms. Niko, the mother of Deyjah Harris, took to Instagram to share a slideshow posing next to her daughter and Tiny Harris, the girl's stepmother.
In the first image, Dayjah was posing while holding several flowers next to Tiny, Niko, and Heiress, Tiny and T.I.'s youngest daughter. For the second photo, more members of her family joined them, proving how good a relationship they have.
For the caption, Niko revealed that the pics were taken on the day her daughter gave her senior speech. The milestone was so touching that she couldn't stop crying.
"My baby is so amazing... she is so wonderful, and smart, and thoughtful, and just everything. I have always been proud of you child, but [today], I have never been so proud," wrote Niko.
As soon as the proud mother uploaded that slideshow, her followers took to the comment section to share their thoughts.
"Congratulations! And I thought she looked like her dad... She looks like Mommie! Y'all have a gorgeous, smart daughter. I pray the best is yet to come.... She is truly a Princess!" admitted one user.
"Beauty brains and compassion...yep she winning...job well done family!" pointed out a second one.
Tiny also uploaded a post addressing Deyjah's milestone. While the photos were very similar, the singer shared a clip that showed the 17-year-old lady speaking with confidence to her peers about knowing what their mission is and working hard to achieve it.
"We are the creators of our own reality, no one else in this world can create our reality for us, because we all came into this world already subconsciously aware of the mission we were individually assigned to accomplish," said Dayjah.
"We are all different in our own unique ways, and as such, it would be wrong to expect all of us to achieve the same standards," added the girl.
For the caption, Tiny wrote: "Talk about Beauty & Brains.. our baby [Dayjah] did an amazing job on her speech. Which I knew she would, she's very good at expressing herself thru writing. Wouldn't have missed this for the world. So proud our intelligent, gorgeous child. Love you forever, ever DeyjahPooh"
T.I. also addressed the milestone in social media by posting a photo and saying that his daughter would change the world. Deyjah will be officially graduating from high school in summer 2019, but she seems ready for college already.

Source: Instagram/princess_of_da_south
It is not the first time that Deyjah's parents take to Instagram to show their love and support. In one of the photos that the young model uploaded, T.I. and Tiny took to the comment section to praise her look.
"Lord have mercy…. Father Time please slow down" wrote the rapper, while Deyjah's stepmother added, "why are u so [expletive] gorgeous…"
Please fill in your e-mail so we can share with you our top stories!