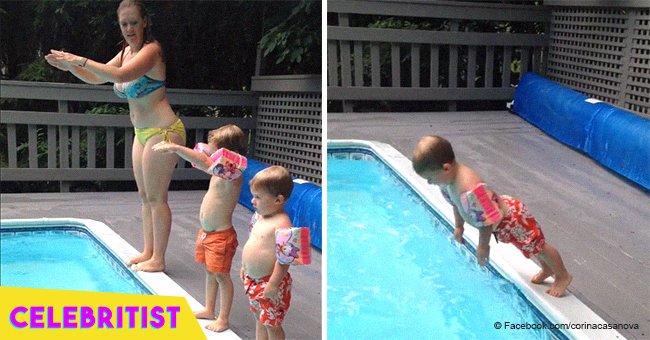 Hilarious video of North Carolina toddler turning pool dive into a belly flop went viral in 2018
Toddlers definitely gave us some of the best hilarious videos from 2018, and this 2-year-old swimmer apprentice stole hearts and many laughs with his unique way of diving into the pool.
Back in the summer, Corina Casanova of Asheville, North Carolina, took to Facebook to share a hilarious video of herself and her two sons having fun in their backyard pool. It took some convincing for her to share the video, as she explained in the caption, but people from all over the country were grateful she decided to share it.
In the clip, Corina is seen standing on the edge of the pool next to her sons, as she teaches them how to do a proper dive. Then, after she gives a count, Corina makes a forward dive into the pool, leading the way for her kids.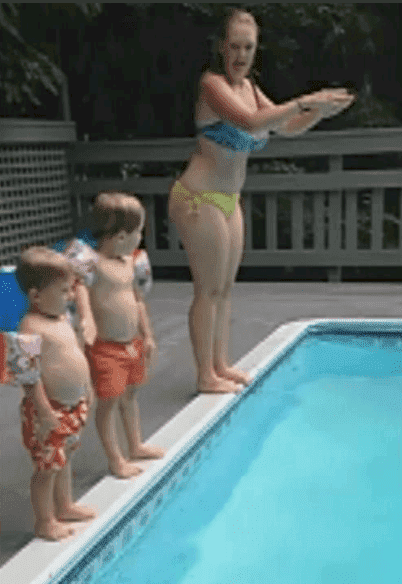 Source: Facebook/corinacasanova
Later, her eldest son attempts to copy his mom and kind of makes a dive, and when is the turn of 2-year-old Deacon, the boy looks some sort of lost as he keeps his arms at his sides and just leans forward into the pool, turning what was supposed to be a dive into an epic belly flop.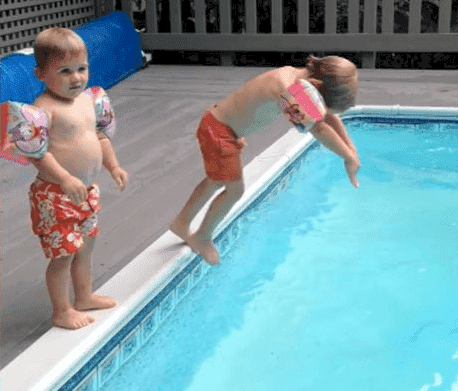 Source: Facebook/corinacasanova
The adult behind the camera can be heard exclaiming in surprise, probably expecting the boy to start crying after what sounded like a painful splash, but instead, Deacon lifts his head from the water flashing a huge smile on his face, causing his family to laugh and clap for him.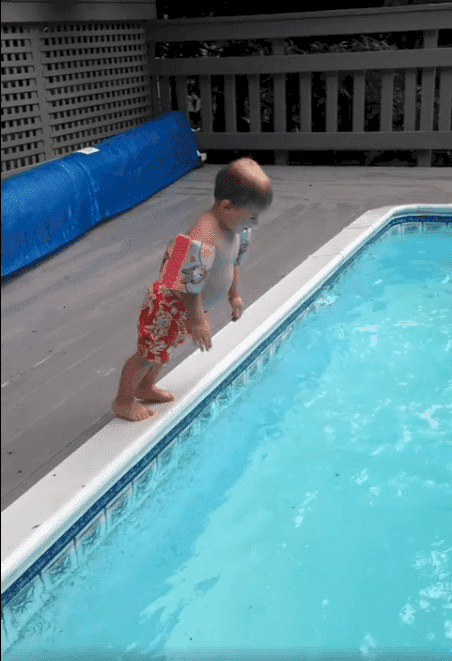 Source: Facebook/corinacasanova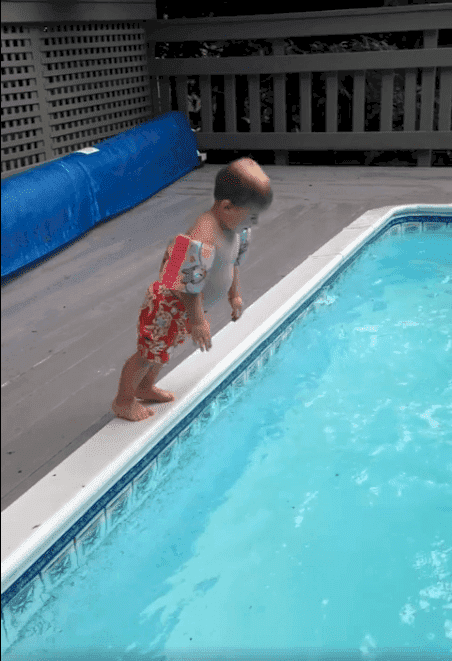 Source: Facebook/corinacasanova
The video has now earned 8 million views, 36k reactions, 21k comments and 70k shares from people all around the world.
"I feel like the last kid is just me trying to get through life!" commented one user. Another added, "I laughed so hard! Too cute!" and a third one said, "The last kid is totally how we approach Monday."
Little Deacon is definitely fearless and ready to face new challenges head-on, or shall we say, belly on?
ANOTHER HILARIOUS TODDLER
While Deacon went viral for his summer endeavors, another little girl left the internet in stitches on her first day at kindergarten.
Back in August Rebecca Maldonado took to Twitter to share a clip of the moment she picked up her daughter from kindergarten on her first day. Safe to say, the girl was not amused at all.
The little girl waited in line with the rest of her classmates to meet their parents, and they all wore paper crowns in their heads, which suggest they had a bit of fun on their first day. But among all the smiley kids, Rebeca's daughter had a frown on her face.
She then gave a halfhearted high five to her teacher before sprinting toward her mother, taking off her crown and throwing it to the camera. "How my daughter feels about starting kindergarten," Rebecca captioned the clip, which has been viewed over 14,000 times and has 51 retweets.
Please fill in your e-mail so we can share with you our top stories!