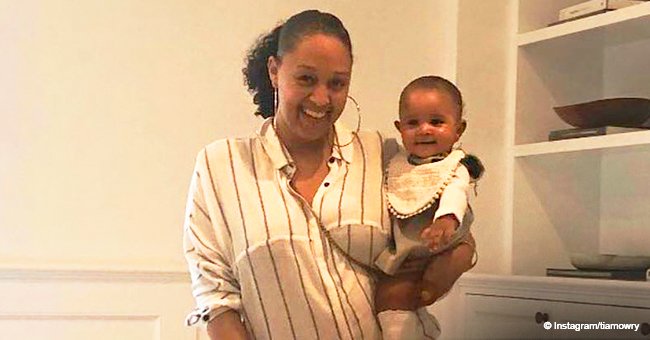 Tia Mowry's daughter Cairo is her mini-me as they flash matching smiles in new photo
Tia Mowry can't stop gushing about her 7-months-old daughter, Cairo Tiahna, on social media. But besides showing off her mini-me, Tia is also using her platform to raise awareness about post-partum issues that many moms, like her, can suffer.
Tia Mowry welcomed her second child, daughter Cairo Tiahna, on May 5. Since then, the "Sister, Sister" star has been open about everything regarding her pregnancy, birth process and post-partum life as a mother of two. She also has 7-year-old son Cree.
In one of her recent Instagram posts, Tia posed in the middle of her living room with Cairo in her arms. Mowry rocked a white striped t-shirt dress and hoop earrings, while little Cairo donned a grey onesie, white bib and matching fluffy socks.
The mother-daughter duo enhanced their similarities by sporting matching smiles for the camera, melting the hearts of Tia's fans on social media. "Omgosh...She's the yummiest of yummy babies in Hollywood," commented one user, and another agreed, "Cute smile Cairo, just like her mom, she's happy."
POST-PARTUM UPDATES
Mowry, who recently filmed two Christmas movies, has made of her Instagram a safe space for moms, as she gushes about her children but also keeps it real about the difficulties she has faced, especially when it comes to snapping back and losing weight after giving birth.
Only two weeks after bringing Cairo to the world, the 40-year-old shared a photo showing off her body and explaining that, while for some women is easy to snap back and recover their body weeks after giving birth, there are others that struggle a bit more because of different factors.
"I wanted to shine a light on how our society creates false expectations after a woman gives birth," she wrote, and continued:
"Ladies, it's okay that our bodies are not PERFECT after our babies are born. Give yourself time […] You've just accomplished a miracle! #Love yourself, love your new body, embrace it."
SIX-MONTHS AND SHEDDING LIGHT ON A COMMON ISSUE
Fast forward to Cairo's sixth-month mark, Tia shared a new update on her weight loss journey, this time revealing the reason why is taking her so long to recover despite all the effort she's putting in.
"Do I still have a little pouch? Yes. Ever heard of #DiastasisRecti? It's when the abs separate during pregnancy. Shining a spotlight on this because I had never heard of it," she explained.
According to Parents, diastasis recti is a very common condition, especially among women over 35 that have given birth to more than one child. Approximately two-thirds of pregnant women have it, and the most effective way to recover from it is exercising.
Tia revealed to E! News that she works out not because of vain, but to feel good with herself. She takes classes of Soul Cycle and weight training, but her favorite activity is yoga "because not only does it help you with your body—it helps you with your mind...It's about setting an intention before every workout," she explained.
LEADING BY EXAMPLE
Mowry's incredibly positive attitude toward her post-partum body is settling an example for other struggling moms out there, who might have a hard time accepting their bodies.
"I'm just really taking my time, and I really want to be an example out there for women, that it's OK if you don't lose weight fast or rather quickly. It's OK if you still have a belly bump. That's what happens. It's natural. It's normal," Mowry stated.
"You don't have to kill yourself trying to get to someplace that takes time. I'm about focusing on my babies and enjoying her growth."
As for baby Cairo? Tia says she's sitting up, laughing, babbling and holding her bottle. Tia can't wait for her baby girl to keep growing, and fans are as excited as her.
Please fill in your e-mail so we can share with you our top stories!