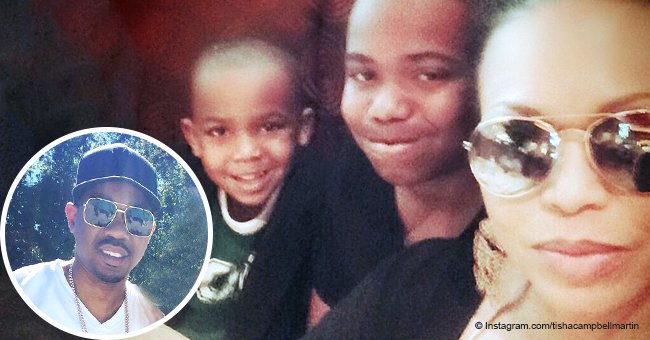 Tisha Campbell asks for written custody deal after estranged husband fails to follow verbal deal

Singer and actress Tisha Campbell, best known for "My Wife and Kids," revealed that her estranged husband, Duane Martin, is not following their verbal custody deal.
As TMZ reported, Tisha is asking the judge of the case to create a written deal as a way to force Duane to stick to it. At the moment, the exes have 50-50 custody, but the man has allegedly not made things easy.
One of the things that the "Martin" actress complained about was that Duane would not respond or cooperate on their previous agreement upon swap time for the children.
MORE REQUESTS
Apart from that, the man has reportedly threatened Tisha to keep their boys for longer than what the verbal custody deal stated. The actress is also asking to get a "neutral exchange location" like a police station.
Another request is that Duane must respond to her messages or emails within 24 hours to make sure that everything is okay. Duane and Tisha tied the knot in 1996, and have two sons together, Ezekiel and Xen Martin.
In February 2018, after 27 years together and 22 of marriage, Tisha filed for divorce. "it pains me to announce that I've filed for divorce. It's an emotional time and I graciously ask for privacy for me, our children and the rest of our family," said Tisha.
FINANCIAL BATTLE
It is not the first time that their divorce has made headlines as their ongoing battle sees the two gunning for spousal support. While Tisha maintains she's in a deeper financial hole, Duane insists he deserves spousal support more.
In her defense, Tisha revealed in August that Duane's closet alone spelled big bucks with more than 500 shirts valued at $1,500 each. She even showed a video featuring her estranged husband's extensive wardrobe collection.
Apart from that, her income declaration set clear that she earned a lot less than her husband, which suggests that he should be the one paying spousal support.
WILL AND JADA SMITH INVOLVED IN A SCANDAL
There is still another scandal surrounding the ex-couple. In 2016, they filed for bankruptcy uncovering a $15 million debt they were deep in.
However, after Tisha filed for divorce, his shady dealings came to light. It was revealed he was concealing and diverting assets to avoid paying for their debt. Will and Jada Smith are involved in it.
Please fill in your e-mail so we can share with you our top stories!