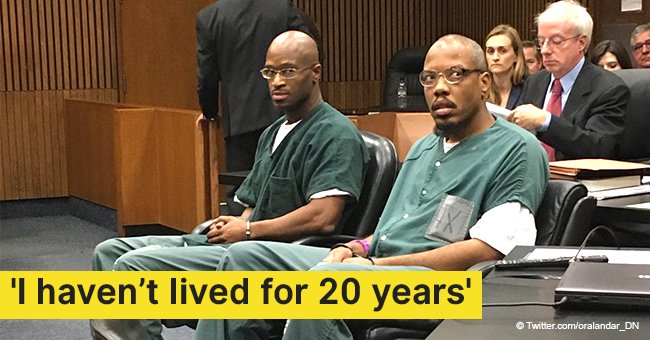 Two black men are finally free after spending 20 years in prison for a murder they didn't commit
Justly Johnson and Kendrick Scott, two black men who served 20 years in prison for a crime they didn't commit, were finally released.
Both men were wrongfully convicted for the murder of Lisa Kindred, then-35. Two decades behind bars had to pass before their charges were dismissed. Now, they are looking forward to a new life outside prison.
The incident that took them to jail happened in 1999 when Kindred was sitting in her van with her children near a gas station in Detroit. Unfortunately, two suspects killed her.
Testimonies of two people were crucial aspects of the case as they were who put Johnson and Scott behind bars. However, Imran Syed of the Michigan Innocence Clinic discovered none of the children were questioned regarding their mother's murder.
When they were finally asked (seven years ago), one of the boys who saw the suspects set clear that neither Johnson nor Scott were his mother's killers. The two witnesses who originally testified also recanted their testimony which led to the opening of a new trial to overturn the pair's convictions.
The trial was supposed to begin in mid-December, but to the men's surprise, all charges were dropped by the prosecutor during the final pretrial conference in early December.
Syed said: "We all arrived in court not knowing what would happen and I give the prosecutor a lot of credit for making this decision. I know there are a lot of factors involved and it's never easy."
When Johnson learned that he was finally leaving prison, he seemed relieved and eager for the simple aspects of life. He said, "To be honest with you, I just want to live and enjoy life. Breathe. At the end of the day. That is it."
One of the things that kept their hopes up was their faith. Both men were sure that the truth would eventually free them. Scott said that when people falsely accuse someone of a crime, "all you can do is hope and you know it's going to come one day."
Scott added that, even though they spent the sentence in separate prisons, they never "lied on each other" like those who put them in jail. They stayed strong and finally, after two decades, they got out together. Johnson and Scott will be receiving $50,000 for each year they wrongfully served in prison so they can start a new life outside.
Unfortunately, it was not the first time that people get wrongfully sentenced. In 1978, Lawrence McKinney was sentenced to 115 years in jail on rape charges. After revising his case, all charges were dismissed and was released from prison in 2009. As a way to start over, the Tennessee Department of Corrections gave him only $75.
McKinney embarked on a mission to clean his reputation, as well as getting more money for the 31 years he spent behind bars. Thankfully, after a long legal battle wherein even Gov. Bill Haslam intervened, the Tennessee Board of Claims agreed to give him $1 million payment.
The money will be split up into an initial sum of $353,000 to pay legal fees and a car for McKinney. The rest of the money is expected to be divided into monthly payments of $3,300 for 10 years. Even if he passes away before that time, his wife will continue to receive the monthly payments.
Please fill in your e-mail so we can share with you our top stories!