Meghan Markle and Prince Harry's wax masks are probably the worst look-alikes of celebs ever
On December 11, a Christmas display at Madame Tussauds in Berlin, Germany, featured a pair of actors wearing Prince Harry and Meghan Markle masks, but they weren't exactly well received by the public, as some described them as "terrifying."
As if the uncanny masks weren't creepy enough, the actors impersonating the Duke and Duchess of Sussex were wearing typical ugly Christmas sweaters, something that probably none of the two stylish royals would ever do in public.
The display tried to portray the soon-to-be parents like they were an ordinary couple in a casual holiday party. The scenery included a couple of cozy couches and a Christmas tree. Read more on our Twitter account @amomama_usa
The actress who played the role of 37-year-old Markle even had her own baby bump and the two doubles decorated their own Christmas tree themselves, unlike the recently married couple at their Kensington Palace home.
These wax figures of Harry and Meghan are the last things you see before you die, I'm sorry https://t.co/mG3y0krBTE pic.twitter.com/DWATFjh1IM

— Jezebel (@Jezebel) December 11, 2018
32-year-old German royal Princess Xenia von Sachsen, who is the great-great-granddaughter of the last king of Saxony, Friedrich August III, visited the display and was photographed next to the pair.
The public took to social media to share their reactions to the holiday themed stunt, and most of them weren't positive, with several users calling the masks "creepy."
Prince Harry and Meghan Markle's wax figure heads are back and they're not creepy at all. Not one bit. https://t.co/586f3nt33r pic.twitter.com/TJr2v53gDX

— E! News (@enews) December 11, 2018
"I find this so incredibly creepy... on many levels," Kelly Mathews tweeted. "Creepy and doesn't look right," added Vanessa Gillieo. "Please stop with the wax figures. They are seriously creepy!" said LaVerne Mars.
 "These Prince Harry and Meghan Markle wax figures are what you see right before you die."
-Quinn Keaney, Twitter, December 11, 2018.
Madame Tussauds presents live wax figures of Britain's pregnant princess Meghan, Duchess of Sussex, and Prince Harry in Berlin

📷 via @Reuters pic.twitter.com/gg68GGAtPU

— Elliot Wagland (@elliotwagland) December 11, 2018
This is not the first time this wax masks have freaked people out. Back in August, faux Harry and Meghan were seen walking a dog and having a drink around London.
these prince harry and meghan markle wax figures are what you see right before you die pic.twitter.com/FNvJEOe1oG

— 𝕼𝖚𝖎𝖓𝖓 (@QuinnKeaney) December 11, 2018
In March, Madame Tussauds in New York announced that Meghan Markle was getting her own wax figure from the prestigious house for the first time, to join her royal relatives at the museum.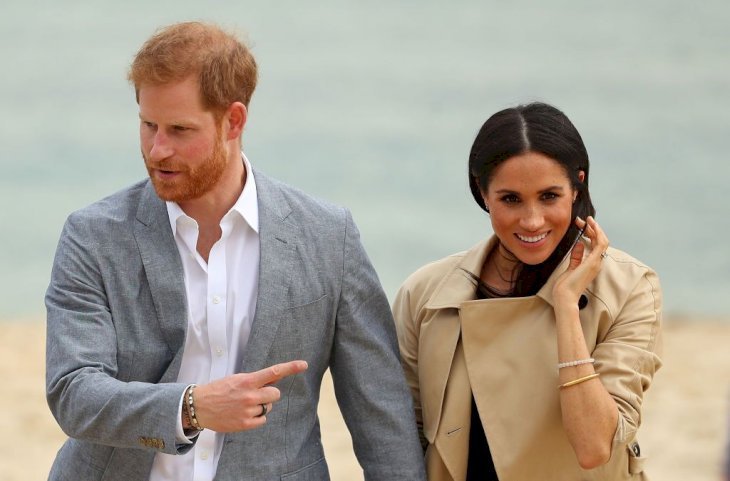 The Duchess of Sussex's wax figure was unveiled in May, not long before her wedding to Prince Harry, who was also portrayed, complete with his bearded look.
Just as her fans in New York City, the public at Markle's new hometown, London, also have the chance to see a replica of the former TV star, and it definitely looks way better than the controversial masks.