Mom arrested after 3-year-old shot 8-month-old while boyfriend and her were in the shower
A young couple is facing child abuse charges since their eight-month-old baby struggles between life and death after her three-year-old brother accidentally shot her in the face in a New Mexico motel.
The infant has been in critical condition since police found her on Saturday, December 8, in Gallup, New Mexico, said Gallup police captain Marinda Spencer.
According to authorities, Shayanne Nelson, 18, and her boyfriend Tyrell Bitsilly, 21, were both taking a shower in a motel room when Nelson's little boy found the gun and accidentally shot the baby girl.
Nelson and Bitsilly face child negligence charges and are detained at the McKinley County Adult Detention Center. Read more on our Twitter account @amomama_usa.
According to a criminal complaint, Shayanne Nelson and Tyrell Bitsilly were in the shower at the Zia Motel in McKinley County when Nelson's three-year-old found a gun and accidentally fired it, hitting the baby. https://t.co/G8EWRk6RqG

— KOB 4 (@KOB4) December 10, 2018
Police arrived at the hotel on historic Route 66 and found the girl with a facial wound, according to the charges filed on Monday, December 11, against the mother and her boyfriend.
Nelson told police she did not know there was a gun in the room and that the previous occupant could have left her there, according to the complaint. She added that her son probably found the gun and decided to play with her.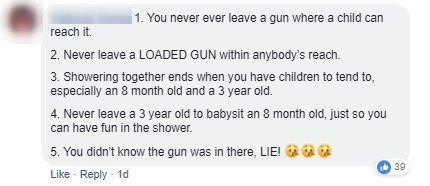 The police said that the mother and her boyfriend took a shower leaving the children unsupervised. In addition, a witness told police that he saw Bitsilly clean the gun after the shot.

The baby was taken to the Gallup Indigenous Medical Center. Gallup, in New Mexico, is located 140 miles west of Albuquerque and borders the Navajo reservation near the Arizona border.

In addition to the charges Bitsilly faces for child negligence, he was also accused of tampering with evidence. According to documents presented in court, Nelson was released on $ 5,000 bail, but Bitsilly was detained after failing to pay a bail of $ 70,000.
It is unknown if the defendants have lawyers to represent them.
Leaving a weapon in an unsecured place children are around can have devastating consequences, like this case in which police say a 4-year-old central Indiana girl was critically injured after being accidentally shot in the head by her 2-year-old brother.
In a similar story, a 2-year-old girl died from a gunshot wound after her 4-year-old cousin accidentally shot her. The girl was transported to a nearby hospital where she was pronounced dead nearly an hour later.
Adults were inside the home at the time of the shooting and were cooperating with the sheriff's department for the investigation. According to neighbors, the child's mother was devastated as emergency crews tried their best to save the little girl's life.