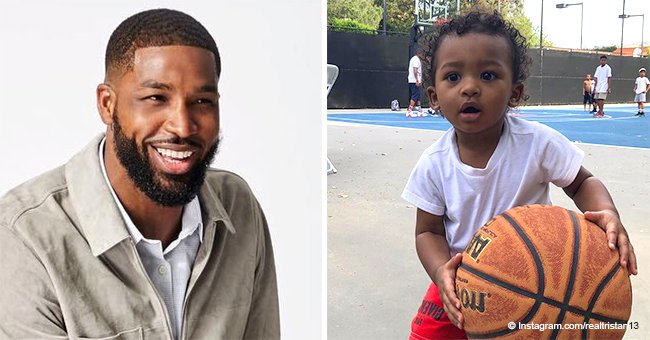 Tristan Thompson shares cute pics to mark son's 2nd birthday after allegedly neglecting the child
Tristan Thompson pays tribute to his "twin" on his second birthday by declaring his love for him in a sweet post.
Tristan Thompson recently gushed about his son turning two, shutting down rumors he's an absentee father.
ABSENTEE FATHER?
Before True Thompson, Tristan's daughter with Khloe Kardashian came to the picture, the NBA star had a son named Prince with his ex, Jordan Craig. The young boy seemed to have been staying on the sidelines while his father paraded his sister to the world.
Many thought Tristan was neglecting his son. In fact, Jordan expressed her frustration at the disparity in Thompson's attention towards his two children. Even Tristan's father, at one point, called him a deadbeat dad for neglecting his older child.
THE TRUTH REVEALED
However, a recent development is shedding light on how the basketball player truly feels about Prince. It appears he's been misunderstood.
Thompson took to his Instagram to pay tribute to his eldest who he refers to as his "twin." He shared a couple of photos of the toddler and expressed his fatherly sentiments in his caption.
"Happy birthday to my son Prince, so blessed the man upstairs chose me to be your pops. You're my motivation everyday. Daddy loves you so much!!! #MyTwin."
FATHER-OF-TWO
It isn't surprising why many would think Tristan showed less attention to his son considering this is only his second post about the child on his Instagram. However, he did show that he loves his kids equally when he revealed owning two gold necklaces bearing his offsprings' names.
KHLOE ON BOARD
As for Khloe, who started dating Tristan while Jordan was six months pregnant, it seems like she's on board with Tristan having a relationship with Prince. In fact, True and Prince have met and even have pictures with their father to prove it. Moreover, Khloe has been known to push for a normal environment for her daughter and that would mean less drama and welcoming her half-brother into their home.
FORGIVING TRISTAN
This was also her premise when she took back Tristan after he allegedly cheated on her while she was pregnant with their daughter. Khloe delivered True in the midst of the controversy but chose to allow Tristan to be by her side. In a recent episode of "Keeping Up With The Kardashians," Khloe explained she just wanted to focus on their daughter's birth and making it a joyous experience. The drama would have to wait much later. Khloe and Tristan are doing better now after working things out.
Please fill in your e-mail so we can share with you our top stories!