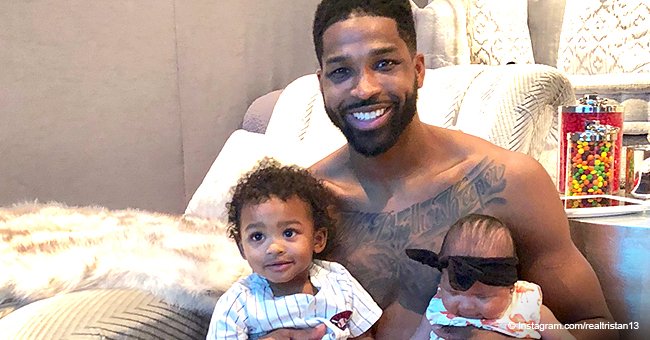 Tristan Thompson dragged after joking 'Christmas is going to be more expensive' with 2 kids
Tristan Thompson is not the internet's favorite person after what he did to Khloé Kardashian, so, when the NBA star made a joke that involves his two kids, social media users dragged him through the mud.
The 27-year-old was featured on the latest episode of "Kickin' it with Kickstradomis," a show where people get to see renowned sneaker designer, Salvador Amezcua, customizing shoes for some of the best athletes of the moment.
Amezcua visited Thompson in his Los Angeles home, and the Cleveland Cavaliers star asked him to customize a pair of Nike Air Max sneakers with the names of his two children: son Prince Oliver, whom he shares with ex-girlfriend Jordan Craig, and baby True, his daughter with Khloé Kardashian.
While showing Amezcua the beautiful view of downtown L.A from his balcony, Tristan joked:
"I got a son that's 16 months, and I have a daughter, so Christmas is going to be a little more expensive. We gotta buy more gifts now."
"You gotta take care of the little ones, make sure they're good," he added.
Thompson, who has faced a lot of hateful comments after he cheated on Kardashian while she was pregnant, explained where he finds the strength to keep going everyday saying:
"We all have our motivations in life, and for me, it's my kids. They push me every day and keep me going. It gives me that extra motivation that I need."
CRITICISM FROM SOCIAL MEDIA
And while Tristan sounded sincere in his words, social media users found that his joke about Christmas hit too close to home, considering the rumors about him ditching his parental duties with son Prince and favoring True over the little boy.
"His boy needs his time, not gifts. Minus Klo!!" wrote one Twitter user. Another quipped:
"Yup when you hook up with women, and it results in a baby, it's expensive, but more importantly, it requires your time. I don't see him being a hands-on parent. Khloe will see the light."
A third person added: "Obviously he doesn't believe in birth control, so you pay to play buddy."
And one concluded: "Well then maybe you shouldn't have cheated on your first kid's mother while she was pregnant with Khloe in the first place. You can't keep it in your pants."
PRINCE TURNS 2
Thompson, as usual, is ignoring the hateful comments to focus on more important things, like the 2nd birthday of his son.
Prince turned celebrated his second birthday on Wednesday and Tristan took to his Instagram to send the boy a heartfelt congratulation.
"Happy birthday to my son Prince, so blessed the man upstairs chose me to be your pops. You're my motivation everyday. Daddy loves you so much! #mytwin," Thompson captioned two adorable pics of the boy. In the first one, Prince is holding a basketball, and in the second one, he's giving his best smile to the camera while on his car seat.
Jordan Craig also celebrated her son with a beautiful Instagram pic. "Can't believe I officially have a two year old," she said. "Such a bittersweet day...but I'm incredibly proud of the little gentleman you are becoming! Love you papa!"
A NEGLECTING FATHER
Tristan has been heavily criticized on social media for the different treatment he offers to his kids. While True gets to spend lots of time with her dad, going on vacations and living with him in Cleveland, Prince is never pictured with the player, and it seems like he's being raised entirely by his mom.
Tristan's birthday post for Prince marks the second time the boy gets featured on his social media. The first one is a pic he shared with both kids back when True was 1-month-old.
People accused Khloé Kardashian of breaking the relationship between Jordan and Tristan because she started dating Thompson when Craig was six-months pregnant.
However, the reality star has denied the accusations several times. "He never left ANYONE for me," she wrote on Instagram a few months ago. "I have said this before, but the lie is what gets traction. The truth seems to get buried and ignored. Either way, it's all love and peace over here."
MOVING FORWARD
Even though Tristan humiliated Khloé publicly by cheating on her twice while she was pregnant, the reality star decided to give him a second chance.
They are now back together and trying to make things work for the sake of their 8-months baby girl. However, social media never forgets, and people are constantly bashing Khloé to leave Tristan and find a new, better man.
But the 33-year-old is happy and, according to sources close to the couple, she hopes people can move on from the drama and let her live her life with Tristan in peace.
Please fill in your e-mail so we can share with you our top stories!