This man made a sweet proposal with 16 dogs and his fiancé was extremely happy
Laura received the wedding proposal of her dreams when Maurice surprised her with a unique way of asking to be the one to cherish her for the rest of his life.
The proposal was full of puppies and music and rose petals, and entirely unexpected.
Laura's best friend and professional photographer, Rebecca Yale, just happened to be there with her camera to capture a special moment for Maurice and Laura.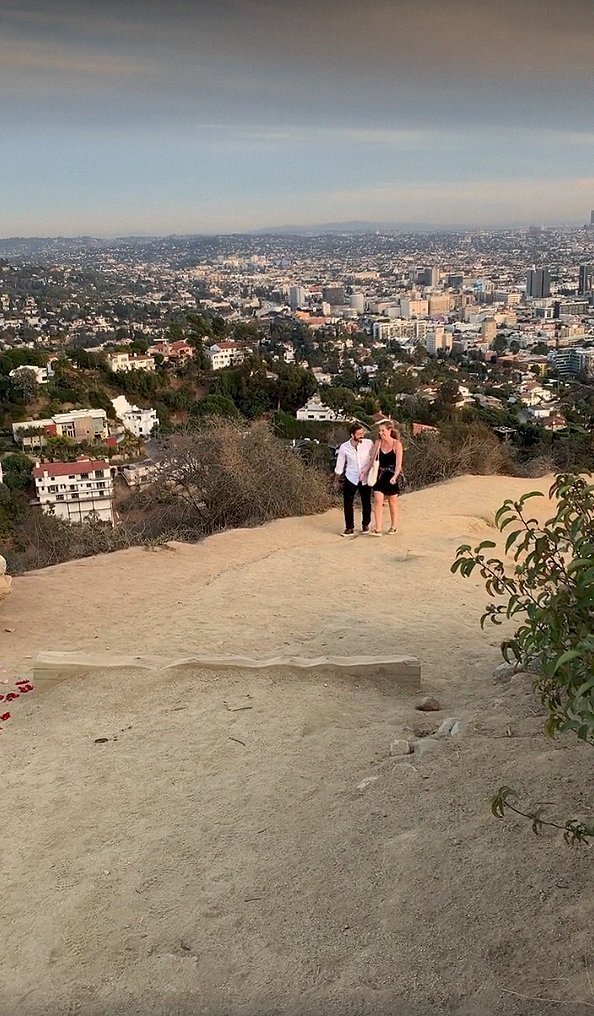 When Maurice suggested an impromptu hike up Runyon Canyon before meeting up with friends in the evening for drinks Laura thought nothing of it as this was not out of character for Maurice.
The reason for their spur of the moment hike soon revealed itself as the couple rounded the top of Runyon Canyon and Laura saw a trail of rose petals as she added:
"It wasn't until I saw the rose petals that I knew it was more. Like, a lot more."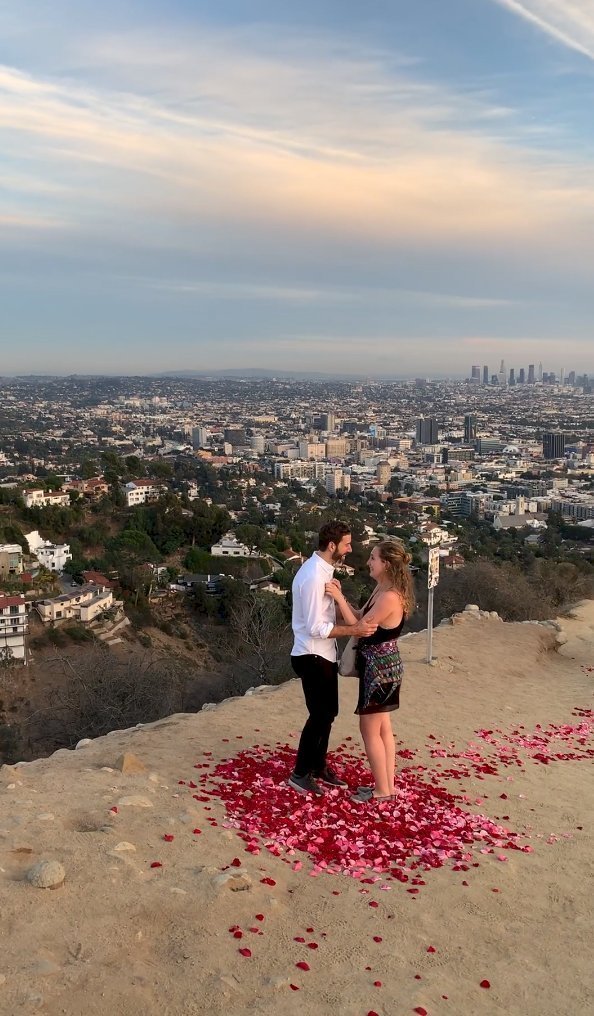 Read more on our Twitter account
@amomama_usa
.
The couple was met with an a cappella choir who sang 'Kiss the Girl' from the classic, 'The Little Mermaid' and then the time came for Maurice to pop the question. He dropped down on one knee and asked her to marry him, with stunning pear cut engagement ring.
Through tears of joy, Laura said yes, and that's when her next surprise appeared. Courtesy of Pack of Hearts, a pack of 16 dogs came running up to congratulate them on the happy news. Elated Laura said:
"I can't imagine anything more magical."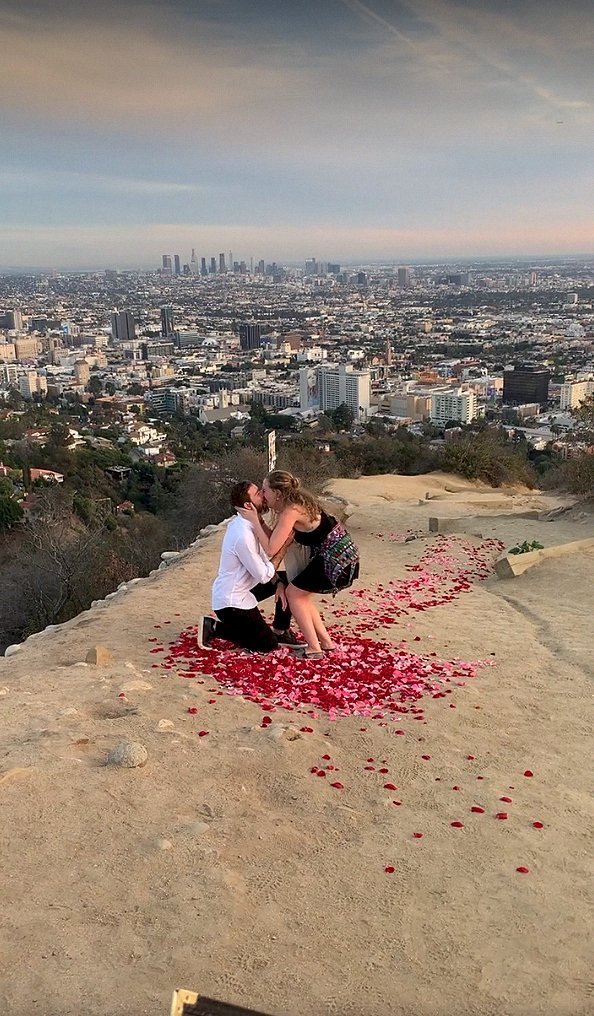 But Maurice didn't just pick something adorable to do when he added the 16 dogs as a wedding proposal surprise; there is an endearing and more profound meaning behind it.
30-year-old Laura Stampler loves dogs; in fact, she loves them enough to have written a book involving them titled, 'Little Black Dresses, Little White Lies.' The storyline follows a girl with an internship as a teen dating blogger in New York City and falls for a dog walker, with the book containing a variety of dog-related elements as Laura elaborated:
"In the book, there's an assortment of dogs and weird dog-related events. Like a pug prom. And a Bark-Mitzvah."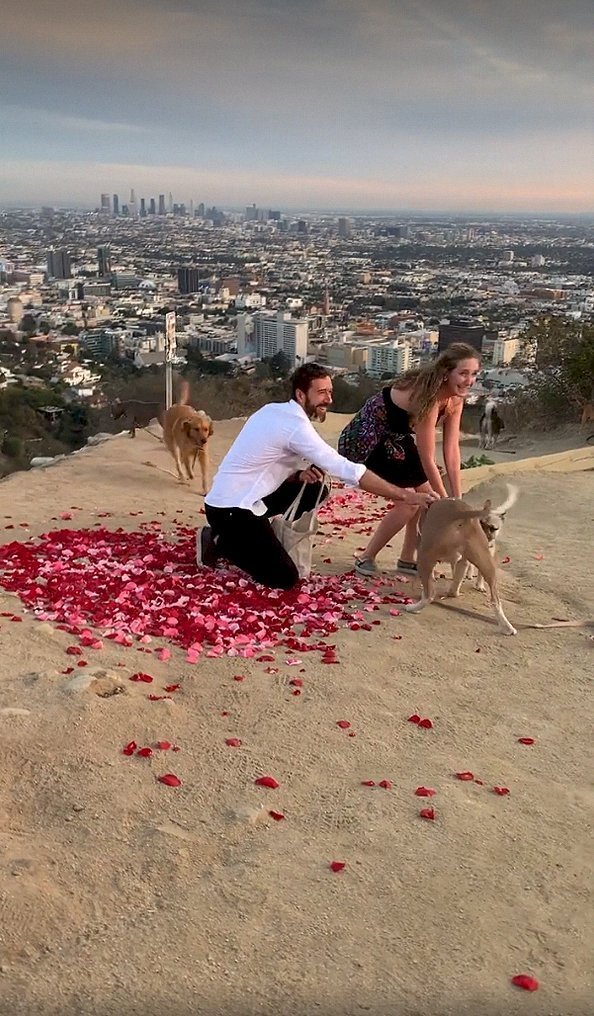 To pull off the proposal Maurice asked Laura's friends for help with different parts of it, and even hired Task Rabbits to save spots for the people involved at the beginning of the hiking trail. In celebration, they all went to a restaurant after where they shared the evening with both their families.
According to the results of a comprehensive annual report by 'The Knot 2017 Jewelry & Engagement Study, which included 14,000 recently married or engaged couples, said that 1 in 4 grooms reported "meticulously" planning their proposals "down to the last detail." And the average time a man spends on planning the proposal is 4.4 months.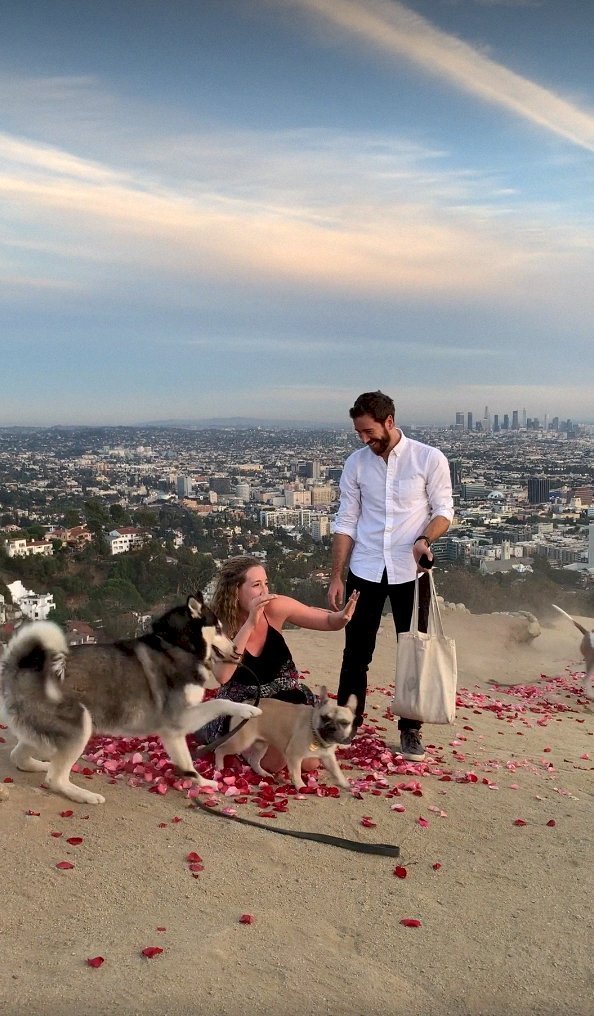 Kristen Maxwell Cooper, 'The Knot's editor in chief
said
:
"We're seeing proposers put more time, thought and effort into creating the perfect proposal, as well as an engagement ring they know their partner will love. And while proposals are less of a surprise than in years past, there's an uptick in grooms returning to time-honored traditions, like proposing with the engagement ring in hand and getting down on one knee."
This rang true for Jeremy Brown who spent months planning his proposal to his girlfriend of six years. Initially, he planned to propose in Aruba last year, but the trip never happened, and he had to prepare something else. 
These lovebirds will never let go after this proposal. https://t.co/EQaoulCmiS

— RADIO.COM (@Radiodotcom) November 15, 2018
With both being avid fans of the movie and all things 'Titanic,' he knew he found the perfect way when he came across The Titanic Museum Attraction. After carefully planning out every detail he popped the question on one knee at the top of a grand staircase. The establishment's wedding coordinator, Christina Collins said:
"Jeremy Brown called our phone room to set the proposal up. He was very precise on what he wanted. They both love Titanic, and he found out we do proposals, so we spoke a few months ago, and he trusted us to help him do a magical proposal for his girlfriend."
It seems both Jeremy and Maurice are part of the 1 out of 4 grooms to carefully plan their proposals.