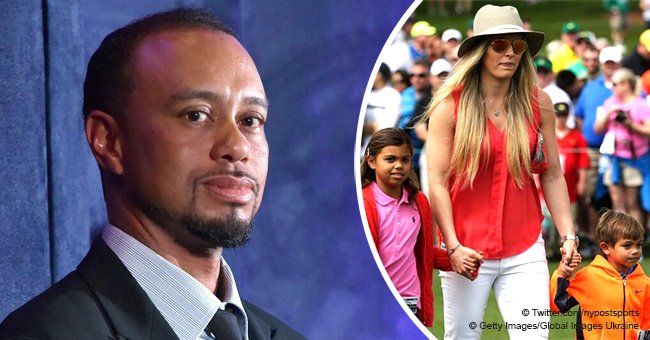 Tiger Woods has 2 kids with ex-wife Elin who has reportedly moved on to a billionaire
Tiger Woods is one of the most successful golfers of our time, but while his career was at the top, his personal life was a wrecking mess. He has two kids from his failed marriage to model Elin Nordegren, who he publicly embarrassed in 2009 after admitting he had cheated multiple times.
The 42-year-old golf star made a triumphant return to the sport this year, winning the Tour Championship last September even though many people thought he would never be able to play the same after going under three different back surgeries from 2014 to 2017.
THE BETRAYAL
Woods' life has been the subject of infinite criticism, both in the professional and personal aspects of it. Back in 2009, his infamous car crash against a hydrant started a chain of situations that would lead him to admit on a press conference his faults, with his mother on the first row and his devastated wife waiting at home.
He had cheated with several women, breaking the trust of his wife of six years and tainting his reputation forever. At the time, Woods stated he would be taking a break from golf to fix his marriage, but his efforts were in vain, and he was divorced a year later.
He had met Elin Nordegren in 2001. She was working as a nanny for Swedish golfer Jesper Parnevik, who introduced the pair. They got engaged in 2003 and married in 2004 at the Sandy Lane resort in Barbados.
The couple welcomed their first child, daughter Sam Alexis in 2007. Their son Charlie Axel cam two years later. He was 1-year-old when his parents separated.
THE REGRETS
Woods and Elis' relationship was amicable enough to co-parent, and it took them a while to be in a good place again. But Woods confessed on a piece for ESPN in 2014, that he wishes he had built the bond they had now when they were together.
"His friends talk of how much he regrets losing his marriage, especially in those moments when he and Elin are with the kids, and he glimpses little flashes of the life he threw away."
Elin got to build a house with the $100 million she got from the divorce. She also graduated from Rollins College with a degree in psychology and had been dating billionaire Chris Cline for years. The man's estimated net worth is $1.9 billion, according to Forbes.
So, is safe to say that Elin is living her best life now.
THE REBIRTH
As for the kids, Sam and Charlie, they love their dad to death.
And even though they didn't get to know the Tiger Woods champion and king of the golf court, they now have a chance to watch him rebirth again, as he proves the world that despite all the trials and tribulations he has faced, his career is far from over.
Woods is also doing good on his personal life. He's been dating 33-year-old Erica Herman for a while now.
Herman, a former manager for Woods' restaurant, "The Woods Jupiter," had the eyes of the nation on her last September when Woods kissed her in front of the cameras while celebrating his victory at the "FedEx Tour Championships," the first since his 2013 run at the "WGC-Bridgestone Invitational."
Please fill in your e-mail so we can share with you our top stories!