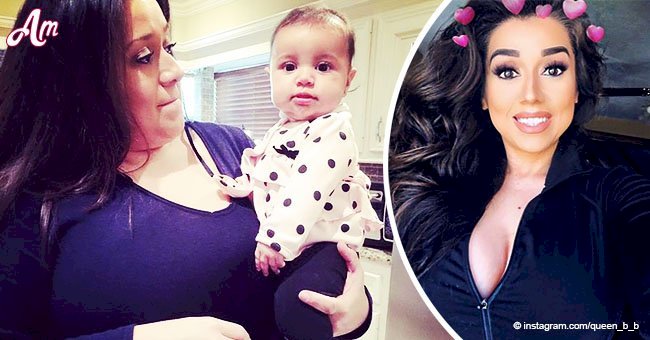 Her husband and his mistress called her "fat," so she lost 103 pounds and became an inspiration
A heartbroken woman is capable of everything in order to demonstrate to the one who damaged her how much she is worth, and in the process to let him see what he lost, no matter how big the sacrifice is.
Such is the case of a Latina mother in Texas who lost more than a hundred pounds to take revenge for her husband's infidelity.
Betsy Ayala, 34, weighed 260 lbs, especially after giving birth to her daughter in 2013. However, that was not an apparent problem for her and her husband. Read more on our Twitter account @amomama_usa
At least that was what she believed, until one day she discovered her husband messages he had with a co-worker, where it was clearly seen that he maintained an extramarital relationship, in which they also referred to her as "fat", and even "cow".
"I found out through some messages that I read on their Facebook where they called me a cow. . . and they just ripped me apart and my whole world collapsed. He always told me that I looked good or tried to eat junk all the time, so I was so devastated when I read those messages because it was almost as if he allowed me or wanted me to keep it that way," she confessed.
Betsy acknowledged in an interview that the worst of revenge crossed her mind, such as cutting the penis of her unfaithful husband, but she preferred to do it in a more subtle way, and that she and her daughter would also win by not letting that infidelity destroyed her.
THE BEST VENGEANCE
"I decided that this would not define me and that it would change for me and my daughter," she said.
Then, the brave woman got down to work and began to buzz with her sister 3 times a week. Then she continued running and lifting weights in the gym 6 times a week, combining it with a high protein diet.
Now, she has dropped 105 lbs and she looks amazing. And most importantly, she feels more secure and complete, and she realized that it is not worth suffering for someone who is not worth it. Even now he is a coach and helps other women who want to change their image.
"I am happier, I have confidence, and above all, I am positive," said the young woman, serving as an example to the world that when you propose, no matter how difficult it may seem, you can achieve it with motivation and will.
This story reminds us of another incredible transformation of a woman who lost 10 stone in 20 months and became a famous beauty after her husband cheated on her.
The 31-year-old Russian whose weight had soared to 20 stone after her second pregnancy discovered that her husband was having an affair.
This betrayal forced her to reevaluate her life and lose 10 stone, and she shared her astonishing transformation on Instagram/ EvgeniaVorobiyova.
Please fill in your e-mail so we can share with you our top stories!