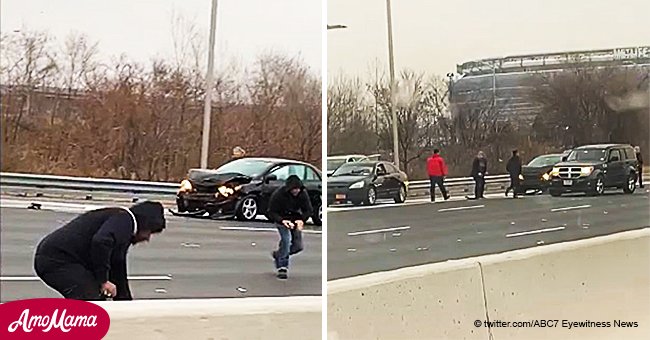 Armored truck scatters cash across New Jersey highway leading to multiple crashes

A truck spilling money in a highway at rush hour caused chaos when people started to leave their cars in the middle of the road to get the money from the floor, and it all was caught on video.
The curious incident took place the morning of December 13, at a busy New Jersey highway, and the madness that unfolded involved two car crashes, as the local police told Associated Press.
It happened on Route 3 in East Rutherford around 8:30 a.m., one of the busiest hours in the driveway, when the police received a call about an armored truck spilling dollar bills across the western lanes.
Several videos show people getting out of their cars and collecting the money, causing much confusion and leading to accidents. It is unknown if people were injured. Read more on our Twitter account @amomama_usa
"People went a little bit crazy when they saw the money. I mean, it seemed like the people who got out of the car — they just didn't care. They parked their cars in the middle of the highway."
-Danielle Shah (witness), Associated Press, December 13, 2018.
Police is yet to determine how much money ended up in the highway, but they informed the public that people who took it are still on time to return it without facing charges.
According to the law enforcers, some people already approached them to voluntarily hand back the cash.
Security and protection company Brink's released a statement on which they confirmed that the armored truck in question was theirs, explaining that they launched an investigation on the matter and refusing to comment any further.
Meanwhile, the East Rutherford Police Department has taken to social media to request any information and videos related to the incident, making people wonder if they are going to track down the people who took advantage of what happened.
This is not the first time when the company has suffered this kind of spill. Back in May, another Brink's trucked spilled hundreds of thousands of dollars when its back doors accidentally got open on an Indianapolis interstate.
It is incredible to think what people are capable of doing in order to get some free money. While in this case nobody seems to have been harmed seriously, things could have ended much worse at a Washington gas station store for its store clerk in September.
Zarif Kelada, a father-of-three was serving three teenage customers when he started to have a heart attack around 5:30 p.m. As was caught on video, instead of helping the Clerk, who was working alone at the time, chose to steal money from the cash register.
Please fill in your e-mail so we can share with you our top stories!