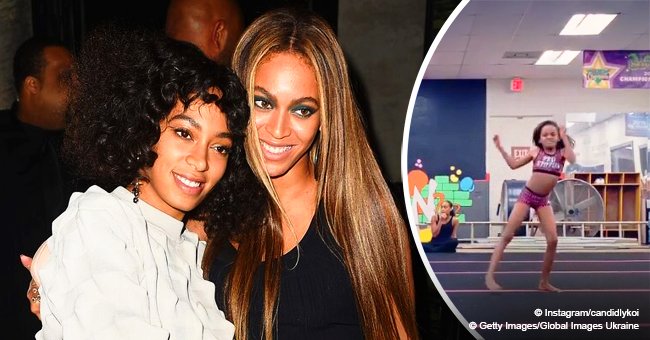 Beyoncé & Solange's little sister shows off bold dance moves in new video
She hails from a family of performers and this week, Koi Knowles, half-sister of Beyonce and Solange Knowles proved that.
The 8-year-old may not have the star power her older sisters possess today but she's making it clear, she is a star to watch out for. Her latest dance video clip is an impressive display of why she could be one in the future.
PRO PERFORMER
Koi is a member of Pro Status, a cheer dance group, and she showed off her expertise in getting her groove on during dance rehearsals. From shaking her booty to landing flips and splits, the little girl nails it. She's dressed in a pink crop top with matching tight shorts. Her hair is loose but it doesn't keep her from rocking an energetic performance.
SOCIAL MEDIA PRESENCE
Koi, the daughter of Matthew Knowles with Taqoya Branscomb has been drawing attention since she launched her @candidlykoi Instagram page and exposed her life to the rest of the world. She loves to doll up and perform, two things people will notice when scrolling through her social media feeds.
Last July, she turned eight with a birthday photo shoot and even featured in a video thanking her well-wishers. Shortly after, she flaunted videos from her school play of "The Wizard of Oz" where she played Dorothy.
More recently, she shared a glimpse of her LA vacation with her mother while billeted at the Dream Hotel. She was wearing a two-piece swimsuit telling her fans where she was before jumping into the pool.
CONTROVERSY SURROUNDING HER FATHER
The little girl is quite a charmer who seems destined for greater things. However, unlike her sisters, she doesn't' have a close relationship with her father who guided Beyonce and Solange to stardom. Koi was born while Matthew was still married to the former Destiny Child singers' mother, Tina Knowles. She was a product of an affair and became the subject of controversy when Matthew refused to acknowledge her until a DNA test proved she was his daughter. The incident caused a rift between Matthew and his family leaving Koi to grow up with an absentee father. She has yet to meet her sisters.
Please fill in your e-mail so we can share with you our top stories!