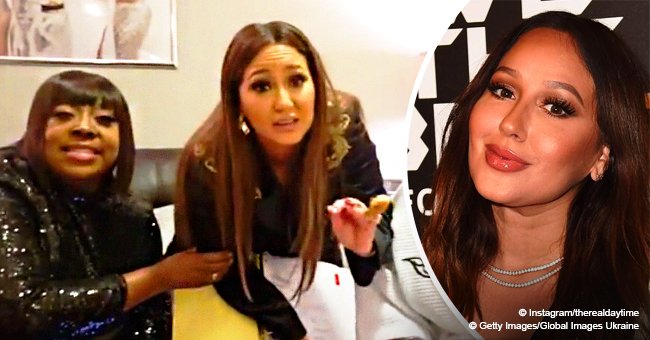 Adrienne Houghton says a serious disease is the reason behind her weight gain amid pregnancy rumors
Adrienne Houghton attributes her weight gain to a disease in a video where she silences rumors that she's pregnant.
Adrienne Houghton has been hoping to get pregnant but she's not. The talk show host set things straight recently after being hounded by pregnancy rumors due to her weight gain. She reveals she has a serious condition that's putting on the weight.
CAUSE OF HER WEIGHT GAIN REVEALED
Houghton and her "The Real" co-host Tamera Mowry recently shared a sweet potato pie and in the process told fans they weren't pregnant. Both suspected to be expecting, they candidly denied this in a backstage video clip while hanging out with their two other co-hosts Loni Love and Jeannie Mai. In a light and hilarious conversation, they attributed their weight gain to the pie.
"This is not a baby, this is sweet potato pie," Houghton said while laughing, before revealing that she and Mowry have a health condition.
"I'm not pregnant! I have Hashimoto's! It's hypothyroidism. Yes, I have a fat neck! There is a reason!"
"We are not pregnant. We're just happy and we like to eat and God is good. Look up Hashimoto's! It is not Asian!"
Mowry, on the other hand, said she has diastasis recti, something singer Ciara also revealed having.
ABOUT HER DISEASE
Houghton's disease, more popularly known as hypothyroidism attacks the thyroid and causes it to be inflamed. This can result in the slowing down of the body's functions which leads to unexplained weight gain, among other effects.
STRUGGLES WITH WEIGHT AND PREGNANCY
Houghton has been struggling with her weight for a while now until she finally learned to do what she can to stay healthy and be comfortable in her own skin. What has also been a struggle for her is trying to conceive a child. Back in September, she opened up about her difficulties getting pregnant, something she thought would come easy for her. It also wasn't helping that people kept speculating she was because she looked fuller.
Here's hoping Houghton's latest admission would stop the incessant baby talk to ease the pressure on her.
Please fill in your e-mail so we can share with you our top stories!