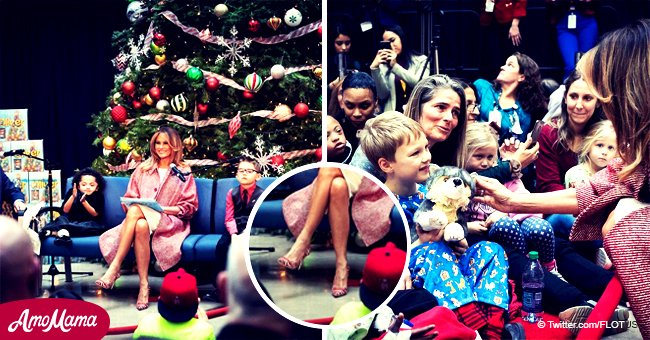 Melania visits sick children in DC hospital wearing ceremonial candy-cane striped shoes
On Thursday, First Lady Melania Trump visited some sick children at the Children's National Hospital in Washington D.C. She was there to bring the children some holiday cheer.
The first lady wore typical Christmas colors for the occasion with red and white being the main theme. As she interacted with the children it was obvious that she was in her element.
For her visit to the Children's National Hospital, first lady Melania Trump wore colors that coordinated with the festive season. She was dressed warmly in a red and white coat over a white dress.
Her heels also kept the Christmas theme in a red and white striped candy-cane pattern. At the hospital, Trump shook hands with children and posed for photos.
For more on this story go to our Twitter account @amomama_usa. Visiting the hospital over the festive season is a 60-year tradition which has been done by every first lady since Bess Truman started it.
The hospital made sure to live streamed Trump's book reading to every room in the hospital. The live stream was meant for those who couldn't attend the actual reading.
However, before the first lady sat down to read to the children she stopped by the hospital's neonatal unit. There she visited with three families whose children had graduated from the program.
Trump met Grayson Hogsett, 4, who was born at 24 weeks. The shy boy hid behind her in a chair, noticing his awkwardness, Trump gently patted him on the back to comfort him.
The first lady also met and interacted with Payton Doy, 6. She was also born at 24 weeks and was seen seated next to Trump at one point.
After visiting the neonatal unit, the first lady went to read to around two dozen children. She sat down with Nathan Simm and Tearrianna Cooke-Starkey, who are patients at the hospital.
Also seated next to her were Santa Claus and Todd Zimmermann, the author of "Oliver the Ornament." According to Zimmermann's website: "'Oliver the Ornament' is a heartwarming tale of one family's cherished Christmas ornaments."
In the story, Oliver was bullied by the other ornaments. Trump related to the topic in the book because she has an anti-bullying campaign called "Be Best."
After reading, the first lady signed the book and it will stay at the hospital. Santa and the children gave her a bouquet of red and white flowers after the reading.
While having an interview with Fox News' Sean Hannity, Trump revealed that her own child, Barron Trump, 12, was off-limits. She revealed that she kept him out of the spotlight because he deserves to have a normal childhood, despite the high-profile roles of his parents.
Please fill in your e-mail so we can share with you our top stories!