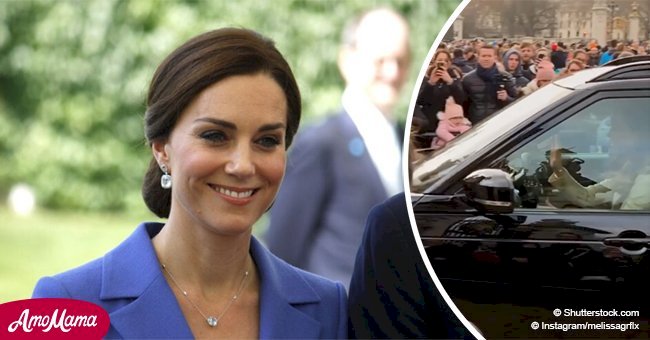 Kate Middleton totally surprises tourists by driving to the Queen's house herself

A visit to the Queen got captured by a royal fan as Kate Middleton arrived at the palace, with fans speculating over the reason for her self drive visit to Buckingham Palace.
An Instagram user, 'melissagrflx' excitedly posted a video on Wednesday that she captured of 36-year-old Kate Middleton as she arrived at Buckingham Palace, behind the wheel of a car as she pulled up to the gates.
Another car trailed closely behind and because the back windows are blacked out it is unclear if anyone was seated at the back. The fan and Instagram user captioned her post:
"At Buckingham Palace. . When you're so lucky and get a shot of Kate Middleton right when she gets to the Palace. "
Read more on our Twitter account @amomama_usa.
It is not unusual for the Royals to drive themselves around when not going on public outings, and are often seen behind the wheel.
Queen Elizabeth has been spotted on numerous occasions behind the wheel, earliest picture is in 1957, when she took Prince Charles and Princess Anne for a drive.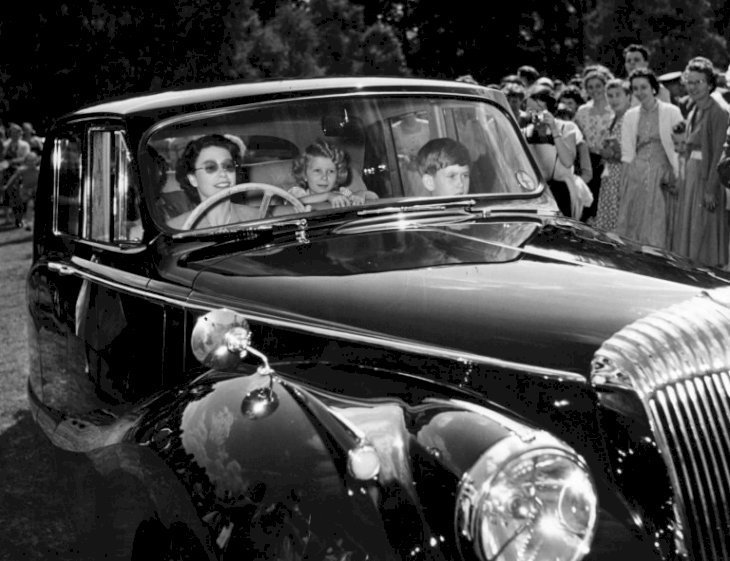 Source: HultonArchive/Getty
More recently when Kate's family visited Balmoral, the Queen enjoyed driving them around the grounds, even though she doesn't have a drivers license.
But the Queen is the only one in Great Britain that is not required to have a driving license, and one would think she doesn't need one since she drove an ambulance as a mechanic in the Auxiliary Territorial Service during World War II.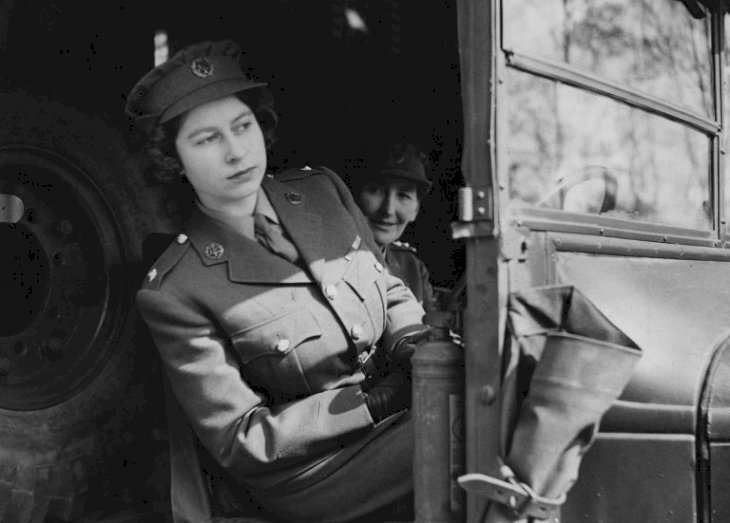 Source: Popperfoto/Getty
Kate and the Queen are not the only royals often seen driving themselves around. Prince William drove Kate and newborn Prince George home from the hospital, as thousands gathered on the streets to wave them off.
Since the posting of the video, other royal fans started speculation as to the reason for Kate's visit to the Queen as it was not an official visit.
With initial reports stating that Kate and Prince William with their children would be spending the festive season with her family, it seems those plans have changed.
With media speculation overwhelmingly leaned to the side that the decision was made as a result between the alleged friction between Meghan and Kate. Prince William informed Kate that their plans for the festive season had to change.
A royal biographer, Christopher Wilson commented on the situation:
"Kate's a homebody and loves being with her own immediate family at Christmas – off-duty and relaxed. Sandringham Christmases can be an ordeal, even for those born royal – and generally, those who've married into the family often can't wait to get away."
While the reason for Kate's visit could be anything from discussing Christmas arrangements to personal advice, all the Instagram user, 'melissagrflx' is happy about is having seen Kate Middleton.
And while some royal members like driving themselves around, others like flying.
Prince William last got spotted piloting a helicopter on Prince Louis' six month birthday, October 23, when they landed at Kensington Palace. Other royals like Prince Phillip however, seems to prefer horse and carriage.
Please fill in your e-mail so we can share with you our top stories!