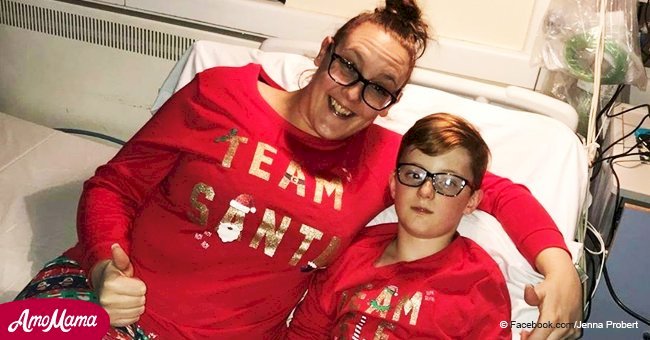 11-year-old returns home for his last Christmas
Six weeks ago Reece Probert and his parents thought he still had his life ahead of him; now he will return home for his last Christmas.
In November 11-year-old Reece returned from a trip to Northern Ireland to see his grandparents when his mum Jenna noticed Reece displaying unusual symptoms.
With complaints of a sore hand and a limp Reece's doctor had an x-ray taken and tested his tendons, which indicated nothing. But two weeks ago he began slurring his words which had Jenna very concerned.
On December 1 doctors at Birmingham Children's Hospital performed a CT scan of the brain that showed an "abnormality." A neighbor, who had been diagnosed with a benign brain tumor, recognized the signs when Reece started struggling with his speech and feared the worst.
Read more on our Twitter account @amomama_usa.
Jenna phoned 111 and got told by the operator to take Reece to the Russell's Hall Hospital in Dudley, where they thought Reece had suffered a stroke.
But when the oncologist at Birmingham Children's Hospital told Jenna two days later that her son had only six months left to live due to an inoperable brain tumor, her whole world came to a standstill.
Now all Jenna wants to do is make Reese's remaining time as memorable as possible as she said:
"It will be our last Christmas together, and we want to make sure it's nice and comfortable and cozy for Reece. I want to make him feel like a king. He should feel like the most important person in the world. It will be emotional because it will be his last Christmas. We will decorate the whole house and make it look like Santa's grotto. It will be the most memorable Christmas ever."
When talking about how Reece is taking the news, Jenna continued:
"Reece knows he has cancer but doesn't see the reality of it. I can't face telling him. I just need him to be happy. Christmas will be a family day, and we will give him anything he wants. We will just cherish it together as a family.
Reece got diagnosed with a diffuse intrinsic pontine glioma, which is aggressive and typically found in children, most children with this diagnosis live between six to twelve months after.
The news was a terrible shock as Jenna described how she felt:
"I collapsed when I was told that. I felt like my heart had been ripped out. It was a horrible feeling. They put him on steroids to reduce the swelling before he had the MRI scan. It was bad enough being told he had a stroke. I was just praying that they had got it all wrong. I just started screaming 'no, no, no.' I couldn't breathe. It's the worst thing any mum can be told."
11-year-old Reece will start with radiotherapy soon for the tumor to shrink, so he has more time with his family. Jenna's goal is now to make this Christmas the most fantastic time at their home in Wombourne, South Staffordshire for her entire family.
The mum of two plans on spending quality time with her partner, 27-year-old Robert Perry, Reece and his six-year-old sister Trinity Alcock, to make the most of the time they have left.
Devastated Jenna said:
"I've had to put the reality of it to the back of my mind. I'm just focused on enjoying him while we still have him. We want to make memories with him and just want to make sure he is happy and comfortable."
This Christmas, Jenna wants the whole house to look like a grotto, she wants a magical home for the family's last Christmas with Reese.
Family and friends are helping to make that happen, as they have launched fundraising campaigns, donations, and charity events and have raised £8,968 of the £10,000 goal so far. If you would like to help make their last Christmas together memorable and special, donations can be made on Reece's GoFundMe page.
Heartbreakingly there are other children like Reese. One of them was 9-year-old Jacob Thompson, who got hospitalized in October 2017 and got told he had only a month to live.
Doctors told the family that the stage 4 high-risk neuroblastoma had spread to his head, so his parents decided to bring Christmas to him at the hospital, and celebrate a month early.
Early Christmas celebrations for Jacob included a tree and snow, and Santa Claus. Sadly Jacob passed away on Sunday, November 19, 2017, but at least he got to spend one last Christmas with his family.
Similarly, 2-year-old Brody also celebrated Christmas early after he got diagnosed with rare embryonal tumors with multilayered rosettes in September and got told he would not make it to Christmas. He had one tumor in his lower spine that intertwined with his brain stem and another two behind his pons.
At home in Ohio, they made the house all festive with many twinkling lights and decorations with other decorations so that little Brody would still get to celebrate Christmas.
Please fill in your e-mail so we can share with you our top stories!