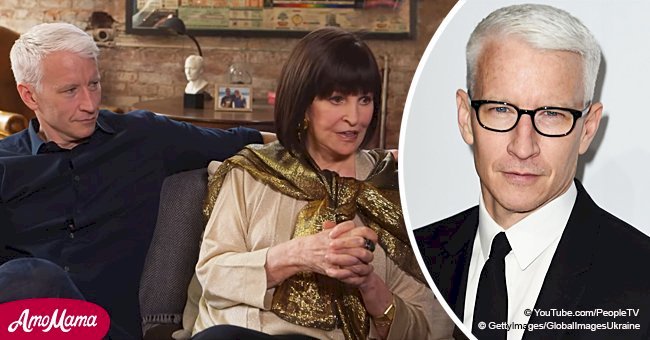 Here's why Anderson Cooper won't be inheriting any of his mother's huge fortune
Anderson Cooper may have a net worth in the millions, but his mother's inheritance might be higher. Cooper, however, is not getting any of it.
Cooper is one of the most-well-known journalists on the television news network CNN. He has made a name for himself. But his background is just as interesting as his daily stories.
The television host has a family background that involves ownership of a railroad. Shared reported that his great-great-great-grandfather was a tycoon who racked up a fortune.
Follow us on Twitter for more @amomama.
As of today, this fortune is in the care of Cooper's mother Gloria Vanderbilt. But the 51-year-old won't be touching the inheritance at her behest.
Cooper, who reportedly makes $11 million a year, is actually in agreement with his mother. He spoke on the matter during a radio interview with Howard Stern.
He explained:
"My mom's made clear to me that there's no trust fund. There's none of that."
While most wealthy families are quick to pass on their money and land to their kin, Vanderbilt has a drastically different take on the matter.
The 93-year-old is estimated to have an inheritance of $200 million, double the net worth of her son. In addition, she earns money through fashion designing.
But Cooper himself doesn't believe that children should have a "pot of gold" waiting for them.
He said:
"I don't believe in inheriting money. I think it's an initiative sucker. I think it's a curse. From the time I was growing up, if I felt that there was some pot of gold waiting for me, I don't know that I would've been so motivated."
So even if Vanderbilt changed her mind, Cooper appears determined to stand on his own two feet. So far, the CBS correspondent is doing well and has nothing to worry about for his future.
As for his past, some interesting things have been part of Cooper's history. As a young boy, the future journalist partied with celebrities like Charlie Chaplin, George Plimpton, and Lillian Gish.
At 10, Cooper worked as a model with Ford. He wore designer fashion from Ralph Lauren and Macy's. He quit at the age of 13 due to inappropriate comments from a photographer.
After his brothers' suicides, Cooper turned to real-world photography and wound up at ABC as a correspondent and then an anchor.
In 2002, he landed a slot on CNN's "American Morning" despite a bad reputation following him. He didn't do well at first, but he took up the jobs others didn't want.
Eventually, he became the anchor to "Anderson Cooper 360" and "Anderson Live." The journalist has also written books and appeared on film and stage productions.
While most people would want at least a portion of their inheritance, Cooper doesn't seem bothered by the fact that his own mother has already made it clear he won't. And based on his popularity, he shouldn't be at all troubled.
Please fill in your e-mail so we can share with you our top stories!