Touching moments robins comfort grieving relatives after their loved ones die
A grieving mother asked her departed son for a sign, and a tiny bird answered her call.
One of the hardest moments in anyone's lives has to be saying goodbye to a loved one. 
Grief can be overwhelming, and the despair of knowing they will never see that loved one again. One grieving mother had a moving experience when she asked her departed son for a sign.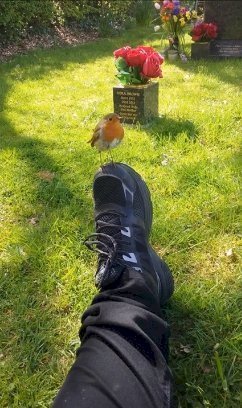 "Early Saturday morning I got in the car and said out loud, 'Jack, please show Mummy a sign.'"
Marie Robinson
FACING THE LOSS OF A CHILD
Marie Robinson, 45, went through the most harrowing experience any parent can imagine. She lost her son Jack on April 1, 2014.
Jack was only 4 when he was diagnosed with an aggressive brain tumor, and four months after he was diagnosed he passed away.

The robin stayed with Marie while she wept, and at one stage landed on her shoulder and nibbled gently on her ear.

A PAINFUL ANNIVERSARY
As the third anniversary of Jack's death approached, Marie grew despondent. On the day that marked his death, she decided to go visit his grave. She got into her car, and before driving off, asked her son for a sign that he was present, that he heard her.

A VISITOR AT JACK'S GRAVE
Marie sat on the grass next to Jack's grave and wept. To her astonishment, a tiny robin fluttered down, and flew around her, trying to land on her. Eventually, the bird alighted on her foot and sat there, staring up at her:
"With that a little robin kept flying around me trying to land on me, eventually landing on my foot - he didn't seem scared at all.

A SWEET COMFORT AS SHE WEPT
The robin stayed with Marie while she wept, and at one stage landed on her shoulder and nibbled gently on her ear.
"He kept looking at me directly in my face and at one point he landed on my shoulder and nibbled me a couple of times."
For Marie, the little robin was a message of love and comfort from her son. She filmed the tiny bird and posted the clip on social media where it garnered over 7million views.
Read more on Twitter Amomama USA.
MANY BELIEVE ROBINS TO BE SIGNS FROM THEIR DEPARTED LOVED ONES
Marie's touching story is not unique. Many people have related stories of being comforted by robins, after the loss of a loved one.
Stacey Woodhouse revealed that the day after her mother's funeral she had gone camping with her husband. She too was visited by a fearless robin, and felt a comforting calm in its presence:
"I felt an immense sense of calm. My mum loved joining us for camping trips, even it was only for a few hours and a cuppa."
Sylvia Rafter was driving with a neighbor shortly after her mother's death. She stopped the car and started weeping, when here astounded friend pointed out a robin perched on her car mirror, watching her:
"We both stopped and I broke down telling her about Mam. She put her hand over her mouth and pointed and there, on my car mirror, was perched a robin... even with the engine running."
There are hundreds of similar stories of robins comforting the bereaved, and robins have always been considered in the old mythologies as a divine bird. Robins are symbols of renewal, and are believed to carry messages from beyond.
In a related story, a 6-month-old baby died after being locked in a car for five hours on a hot day.