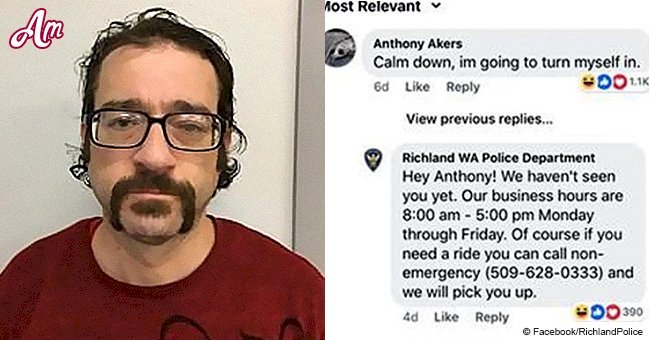 Man's hilarious response to his own police 'wanted' post on Facebook goes viral
Most people would be scared to log into Facebook and see a post by their local police station stating that they are a wanted criminal. One man from Washington is going against this stereotype.
Anthony Akers, a 38-year-old man from Richland in Washington, was reported as wanted for failure to comply by his local police department.
This information was posted on Facebook, and when Anthony saw it, he commented with a hilarious reaction.
Read more on our Twitter @amomama_usa.
WANTED MAN
The police department posted on Facebook about wanting to find Anthony as they thought that the community would be able to assist them in this regard. They did not expect him to see this himself.
Facebook/ Richland WA Police Department
Anthony saw the posted and commented saying
"Calm down; I'm going to turn myself in."
This funny reaction gained thousands of likes from followers of the Richland Police Department's page.
Facebook/ Richland WA Police Department
Anthony then took this further by playing cat and mouse with the police where he took a long time to reply and even longer to physically go to the police station. Eventually, he showed up at the police station as they had requested.
RACIST POLICE OFFICER
While the police mainly deal with keeping the peace and arresting people causing trouble, police officers themselves can be in the wrong at times.
A Detroit policeman appeared in court earlier this year on charges of beating up an elderly black man. The judge used video evidence of the incident to reach a verdict.
The judge delivered a speech in the courtroom where she addressed the police officer's racist behavior and the arrested man's innocence.
OLD DOG'S TRICKS
This is not the only instance of a police officer being put in his place. In this case, it was an elderly lady who put the policeman through his paces.
A senior lady was driving when she got pulled over by a police vehicle. The policeman approached her car and informed her that she was breaking the speed limit.
He requested that she produce her driver's license and vehicle registration documents. She was unable to show him them as they were not on her person or in the car.
She joked that she had stolen the car and killed its original owner. Upon inspection, this was found to be false and just a bit of dark humor from her side.
Please fill in your e-mail so we can share with you our top stories!