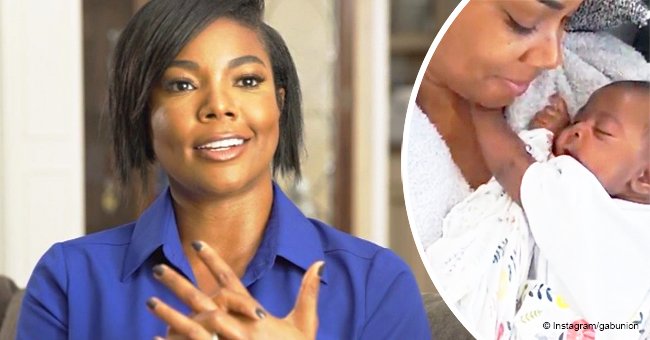 Gabrielle Union looks totally smitten as baby Kaavia reaches for her in heart melting video
Gabrielle Union and Dwyane Wade welcomed their first daughter Kaavia James last month, and after waiting so long to become a mom, Union is still in cloud nine and basking in the bliss of motherhood, as she shares some of the most special moments with her girl on social media.
Baby Kaavia is already 1-month-old, and she has become the light of her parents' lives. The adorable tot took front and center of Gabby Union's Instagram page, and one of her most recent posts melted hearts all over the internet.
In the short clip, Gabrielle I wearing a fluffy bathrobe while cradling Kaavia in her arms, who rocked a white onesie. The baby is half asleep, stretching her little arms and getting even more comfortable on her mother's chest. Union can't help but break into a radiant smile at her daughter's cuteness, as Louis Armstrong's "What a Wonderful World" plays in the background.
"Still floating. Happy Sunday," the 45-year-old captioned the post.
Fans took over her comment section to gush about little Kaavia and point out how happy Gabrielle looks these days.
"@chinachanel1: Shes adorable! She's changing every day! You look so happy. It's contagious!! #youdeserveitall."
"@crimsoneyes0125: It feels so good to want motherhood for a time and finally achieve it. Congratulations!"
"@margotfontaine1: The most beautiful "Gabby" is the "Mommy Gabby" you SHINE more as a MOTHER than any other role in your life besides wife to me."
FERTILITY STRUGGLES
Union has been open about her struggles trying to conceive a baby. She revealed on her book, "We're Gonna Need More Wine," that she suffered eight or nine miscarriages, both from natural conception and IVF.
"For three years, my body has been a prisoner of trying to get pregnant — I've either been about to go into an IVF cycle, in the middle of an IVF cycle or coming out of an IVF cycle," she wrote.
It was her husband, Cleveland Cavaliers star Dwyane Wade, who convinced her to go the surrogate route. After watching his wife going through so much and putting herself in danger to keep trying for a baby, he had to step in.
Wade made clear to Union that he wanted the baby as much as her, but he didn't want to risk her life because "there is no 'us' without you."
THE JOURNEY
On a recent clip shared to the couple's social media platforms titled "Our Journey," they reveal exclusive material from their process. From their baby shower to Union giving the good news to her father, to Wade getting Kaavia James' name tattooed on his shoulder in the middle of a party in China.
Union and Wade were present at their daughter's birth, and they immediately went to have skin on skin contact with the girl after she was born. The skin on skin helps to create a bond between the baby and the parents and is essential for babies born out of surrogacy.
Gabrielle also revealed that this was her surrogate's fourth baby and that the woman saw the entire process as giving someone else the gift of life through using her body as some vessel. Baby Kaavia has no genetical bond with the surrogate.
FACING CRITICISM WITH CLASS
Of course, the mommy shamers and haters have taken their time to criticize Union and some of the choices she has made with her daughter, like kissing her directly on the mouth, an action that many consider dangerous for newborns, as they can quickly catch any virus.
But the "Being Mary Jane" star made clear on an Instagram post that her daughter is safe and after going through so much to have her, is dumb to think she would put the baby in danger. "Someone doing something different than us does not make us bad people or bad parents. Breathe and enjoy. There will be no mommy shaming on this page. I rebuke mommy shaming," she wrote.
Baby Kaavia is surrounded by love, and she's already a spoiled baby, being the only girl in the Union-Wade home. Dwyane also has three other kids from previous relationships, and they all adore their baby sister.
Please fill in your e-mail so we can share with you our top stories!