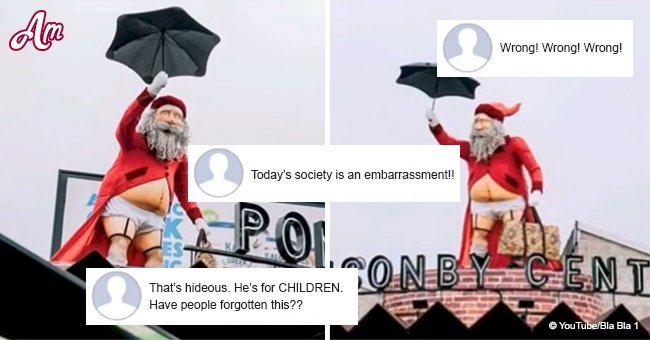 'Gender-neutral' Santa on display in the shopping center sparks outrage

In Auckland, a major shopping center defied all the odds this year and mounted a crossed-dressed Santa at the top of the entrance- The Santa had Mary Poppins-style umbrella, white lingerie and bag as shown below.
Follow us on out Twitter account @amomama_usa to learn more
As you can expect, this cross-dressed Santa sparked a lot of outrage and mixed reactions.Especially from concerned parents who strongly believe Santa should be left alone for children to enjoy, Santa is for children and should be left as an innocent symbol.
The New Zealand opposition frowned at this saying:
Mary Poppins is a woman while Santa is a man and it should be left that way.
There has been criticism and praises from different corners. Some are of the opinion that Santa should not be stereotyped, sighting Coca-cola as an example, their depiction of Santa is not restricted.
While others believe they should leave Santa out of the equation, and not everything should be tampered with in the name of liberation A statement online read:
"soon they'll say it was not a man who went to the moon, now you're telling me Santa is a woman...I just want a few things I can believe in".
The team behind the Santa statue say they want to challenge the mainstream perception of father Christmas, their depiction of father Christmas can be any race or gender they can imagine.
Some people embraced this idea :
"this year he is Santa Poppins, the ultimate nanny(or should we say manny"
But not everyone is down with this, some people have voiced their disbelief Nathan Mills wrote on his Facebook account:
"How is this on trend? Kids love Santa; it's not all about you, believe it or not, Can you not leave just one thing alone from your political BS"."What next? Santa holding a rubber fist? Get lost you pack of losers".
Public polls have been used to determine what people want, 400 people from the UK and US were asked on potential ways to modernize Santa Claus, further using the top polls to envision 4,000 more peoples opinion on how they view Santa.
A total of 27percent, about a quarter of the respondents of the poll felt Santa should be rebranded as female or gender-neutral, according to 6 ABC.
Social media is split on this; while some think it is a really progressive idea, some are of the opinion that it should not even matter as Santa Claus is a made up character, and some just feel it is plain ridiculous and things should be left as they were meant to be.
Please fill in your e-mail so we can share with you our top stories!