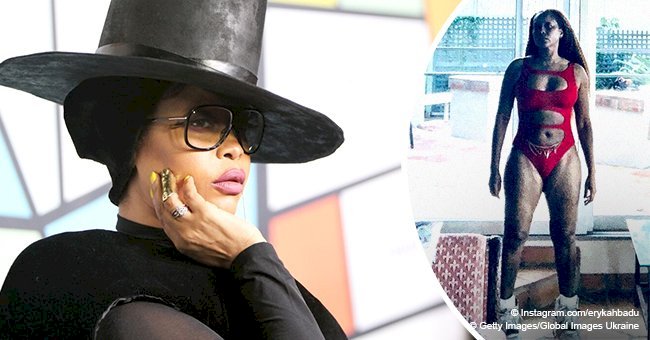 Erykah Badu praised for showing off her snatched body in skimpy swimsuit in new photo
Erykah Badu is known as an iconic soul singer and a fashion trailblazer, but now you can add fitness goals to the list. The award-winning musician had fans doing a double-take with a picture of her new body.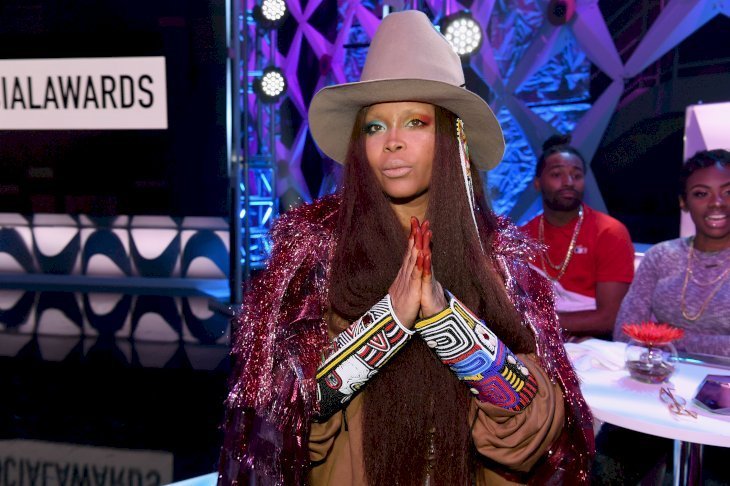 Getty Images
Badu, whose real name is Erica Abi Wright, took to Instagram with a bikini photo of herself. The red one-piece featured cutout detailing above her cleavage and across her midriff, showing off ripped muscles that the singer was not known for before now. She finished her look with a pair of white sneakers and wore her hair loose.
The Shade Room also reposted the photo along with the caption:
"#ErykahBadu is SNATCHED!"
SHOCKED FANS REACT
Instagram users flocked the comments section of both posts to rave over the 47-year-old's incredible body transformation.
"Erykah! I didn't know you had it in ya! What!!" ~ @champ7411
"Damn, girl age ain't got a thing on you!!! Strong, bold and beautiful as ever!!!" ~ @kenudig_lt
"Omg she used to be so tiny." ~ @sandi_star
BADU'S CONTROVERSIES
Badu has a penchant for stirring conversation, whether it's about her unapologetic consciousness as a black woman in the United States, or for her sometimes controversial actions.
Back in 2014, the "On & On" singer faced intense criticism after performing at the 46th birthday celebration of Swaziland's King Mswati III. Mswati III is an absolute monarch who is infamous for his lavish lifestyle and disregard for human rights.
After some Human rights groups called her out repeatedly, she responded:
"I went into a situation not completely knowing [Swaziland's] political climate. I can't be held responsible for the situation in the kingdom, because I signed up as an artist, not as a political activist. I don't belong to anyone or to anything."
SHE SAW SOMETHING GOOD IN HITLER
The 2014 incident was, however, nothing compared to the backlash Badu faced earlier this year after she declared "I'm a humanist. I see good in everybody," adding the controversial line:
"I saw something good in Hitler."
The Dallas native also refused to take back her words. "I would never take back a message of love," Badu insisted. "I'm sorry that it was misunderstood. But not sorry for saying it because it was from a place of love."
DOTING MOM-OF-THREE
Despite her run-ins with the public, Badu always gets love when it comes to her three adorable children. Her eldest child, Seven, is now a 21-year-old young man, and her daughters, Puma and Mars, are 14 and 9 respectively.
Puma already exhibits her mother's traits in more ways than one. Apart from looking like Badu's twin, Puma also has a distinct fashion sense, but most importantly, exceptional vocal abilities.
The teenager stunned the world with her cover of Rihanna's "Stay" in 2016, and she put on an even better performance earlier in February when she serenaded her mother with the birthday song with a touch of soul.
The apple truly doesn't fall too far from the tree.
Please fill in your e-mail so we can share with you our top stories!