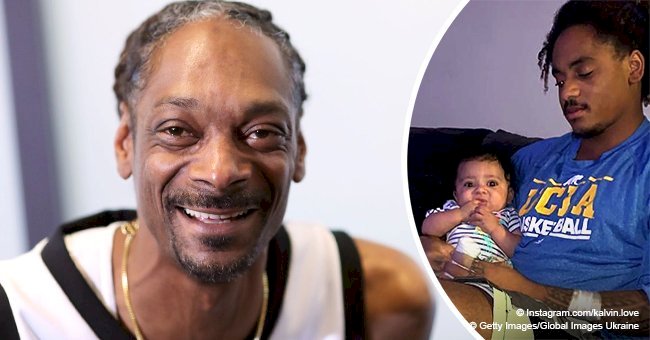 Snoop Dogg's granddaughter is growing fast & enjoys time with her dad in recent posts
Snoop Dogg's first granddaughter is already 4-months-old and her father, Corde Broadus, can't stop gushing about his baby girl.
Corde Broadus, the 24-year-old son of Snoop Dogg, welcomed his second child and first daughter last August with spiritual guru Soraya Love. The former model also shares son Zion, 3, with ex-girlfriend Jessica Kyzer.
Corde and Soraya decided to call their daughter Eleven, and the first-time-mom went through an all-natural birth experience to receive the adorable girl. Broadus announced the arrival of his girl with a heartwarming Instagram post, where he wrote:
"Today my daughter 11 was born. @sorayaspanish did an all natural birth with no Epiduro or drugs from beginning to end. And while I have y'all attention please watch the movie #BuisnessOfBeingBorn and take advantage of the experience of giving birth the natural way."
QUALITY TIME WITH 11
Since then, little Eleven has been taking front and center on Corde's page, alongside with his beloved litter of husky dogs. When the baby turned 3-months-old, the proud dad posted a picture of Eleven laying down alongside three puppies, and fans took over the comment section to create funny scenarios of what the baby was thinking.
"Baby girl is like get these dam dogs off of me, adorable," wrote one user. And another added, "She thinking, 'So Y'all just gone leave me here.'"
Broadus also posted a video with his daughter on his lap, and every time he points the camera at her, her eyes widen. At one point, she starts babbling while watching her reflection, as Corde looks amused and endeared by Eleven's antics.
In another picture, Corde captured Eleven and Soraya having a mommy-daughter time, laying down and relaxing. "The one on the left gets on my nerves but the one on the right balances out," he captioned the post.
CORDE'S LIFESTYLE
People have been criticizing Corde because of the lifestyle he leads. Just a few weeks ago, he revealed that he washes his hair once every 2-3 months and he takes showers once a week. He also added he brushes his teeth "when he can."
This confession, of course, came as a lack of personal hygiene for many people, who started attacking Corde in his comment section and calling him names.
But the unbothered young man didn't take offense. Instead, he tried to explain in a separate post why his "lack of hygiene" is actually "natural."
"People still confused on why I shower once a week. Like I said some people NEED to shower daily or else. I'm eatin good, so Imma be alright what about you?" he wrote.
Corde's social media presence has increased a lot in the past months. He is being more vocal about his life, choices, and beliefs as he prepares to enter the music industry, following his father's steps.
Please fill in your e-mail so we can share with you our top stories!