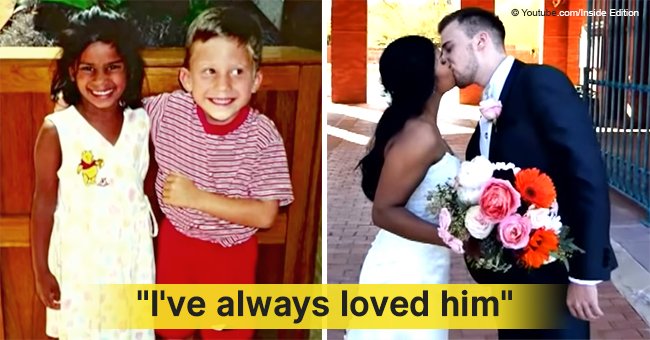 Meet the couple who fell in love when they were just preschoolers and tied the knot 22 years later
A couple made good on their promise as pre-schoolers to wed each other eventually. They tied the knot 22 years later. Find out how their love sustained through the years.
They met in pre-school, he proposed to her, they lost touch, reconnected in high school, dated, and finally married 22 years from the time they first met. That's the short version of the love affair between this remarkable couple who knew they were meant to be as early as five years old. Now here's the longer version.
"I was just always drawn to her."
TALE AS OLD AS PRE-SCHOOL
No one would think a marriage proposal at pre-school would stick 22 years later. But apparently, Matt Grodsky already knew.
Matt met Laura Scheel in pre-school and they instantly hit it off. According to him while recounting their story to Inside Edition,
"I was just always drawn to her. She always had this infectious smile that she still has, just this happy energy."
Having bonded over movies and playdates, Matt knew he wanted to marry Laura when the time came. So he sealed the deal in pre-school at the spot where they first met. He brought up the subject and said,
"Hey, we got a good thing going. We should get married"
A cautious Laura replied,
'We should probably wait. We're still a little young."
BETWEEN THE FIRST PROPOSAL AND THE NEXT
Wait Matt certainly did. In fact, he waited 22 years while spending a lot of time apart. They lost touch in elementary school and only reconnected in high school through a friend. As if things never changed, they hit it off again despite attending different schools. College was no different. They were in different colleges but remained steadfast in their relationship.
On their junior year, Matt did the sweetest thing and invited Laura back to their pre-school, to the spot where he first proposed marriage to her. And coming full circle, he proposed to Laura again. This time, she said yes.
A little more than a year later, they tied the knot. Their story couldn't be more perfect than a movie with a fairy tale ending. It escapes us how two people could be so destined for each other.
ANOTHER LOVE STORY ROOTED IN PRIMARY SCHOOL
It also reminds us of a man who married his secret primary school crush 60 years later. Eric Bogliani silently adored his sister's best friend, Elaine, who was older than him. They lost contact after school and only reconnected almost six decades later through Facebook. Now they're married. What a love story!
A STORY OF LASTING LOVE
Eric's love for Elaine lasted 60 years but this couple even exceeds that. They celebrated 80 years of marriage. 105-year-old Arthur Jacobs commemorated his decades-long marriage to his 100-year-old wife, Marcia by sitting by her hospital bed, holding her hand, and telling her he loved her. Marcia could no longer communicate properly but the love between them was evident in a video their son captured.
"I loved you for 80 years, honey. That's a lot of time," Arthur told her.
It sure is a lot of time but we're certain it was time well spent.
Please fill in your e-mail so we can share with you our top stories!