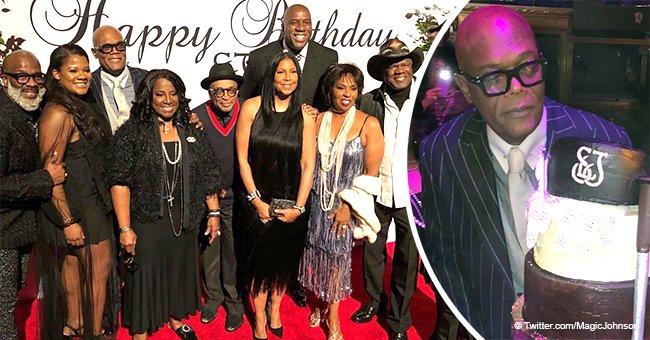 Samuel L. Jackson celebrates his 70th birthday with lavish star-studded party

Samuel L. Jackson had a roaring casino-themed bash with A-list stars in attendance days before turning 70. See photos and videos celebrity guests tweeted proving the actor knows how to throw a party.
Ahead of his 70th birthday, Samuel L. Jackson already had a blast. He hosted a spectacular, star-studded bash that makes one wonder how else he intends to top it on his actual birthday.
THE STARS THAT DESCENDED THAT NIGHT
Jackson's A-list guests showed up at Cipriani 42nd Street on Sunday, five days ahead of December 21, the day he actually turns 70. Celebrities like Magic Johnson and his wife Cookie, LL Cool J, Laurence Fishburne, Cedric the Entertainer, George Lucas, Judge Judy, Whoopi Goldberg, Sugar Ray Leonard, Robert De Niro, Anne Hathaway, and Jerry Bruckheimer were treated to a casino-themed fete that culminated in a dance party.
Judge Judy reportedly "shut down the dance floor" grooving to Cardi B and Bruno Mars' hits. Stevie Wonder also performed for the guests and sang "Happy Birthday" to the man of the night.
JACKSON'S CUSTOM VEST
Samuel looked young and dapper wearing a custom silver vest that listed all the movies he's appeared in at the back. The actor has quite an impressive resume of films considering he was hailed the actor with the highest grossing film total of all time back in 2011.
CELEBRITY TWEETS
In photos and videos tweeted by the stars who attended that night, it seemed like Hollywood gathered under one roof for one grand time. Al Roker felt honored to be part of the event while Magic Johnson shared photos with Stevie Wonder, the birthday boy and other guests, describing the event as the "party of the year."
Meanwhile, Holly Robinson Pete claimed it to be the "best celebration ever."
Other guests who took to Twitter to commemorate the night were LeVar Burton, Reverend Al Sharpton, and Bill Bellamy.
OPENING NIGHT
Samuel's birthday bash comes in the heels of another event he graced in support of his wife, La Tanya Richardson. The actress is part of the cast of Broadway's "To Kill A Mockingbird" which premiered just a few days earlier to a star-studded audience. Among them, Oprah Winfrey, Anne Hathaway, and Hugh Jackman. Samuel's good friend Magic Johnson also attended the opening with his wife and son, EJ Johnson.
A STRANGE MIX-UP
According to reports, an after-party followed that night where a tipsy fan confused Jackson for John Travolta. Spotting Jackson with his "Pulp Fiction" co-star Uma Thurman, the drunk guest allegedly asked them to "do the dance!" referring to the famous dancefloor scene in the film where Thurman and John Travolta, not Jackson featured. Jackson calmly told the man that he may have mixed him up with someone else but the man insisted they dance until someone intervened and told him "this is not that kind of party!"
If that guy was in Jackson's 70thbash, then maybe, Samuel would have obliged him to a dance number.
Please fill in your e-mail so we can share with you our top stories!