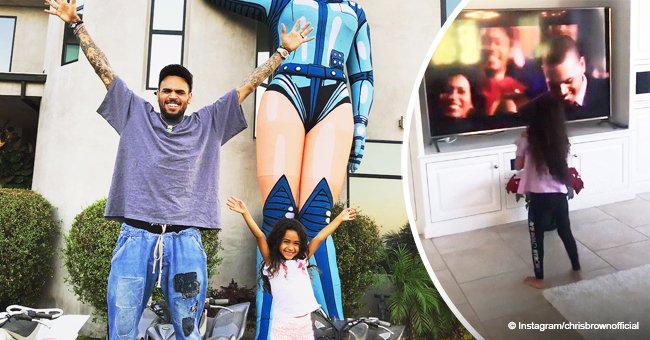 Chris Brown's daughter gets excited while watching her dad perform in a movie on TV
Actor and singer Chris Brown uploaded a video portraying his daughter, Royalty, adorably reacting to one of his performances in the film "This Christmas."
When the clip started, Royalty appeared in front of the big TV watching the movie. At some point, she started spinning around just as if she was dancing to her father's song.
After that, the girl started clapping following the rhythm of the music and, as soon as Chris appeared singing on screen, Royalty began energetically dancing and jumping around.
PEOPLE'S REACTION
Finally, the four-year-old girl made a quick spin and the video ended. As soon as Chris uploaded that clip to his Instagram account, his followers took to the comment section to share their thoughts.
"Did she really spin around that truly is her fathe child [sic]," wrote one user.
"Wow! Imagine the feeling of admiration when ur a kid & that's ur DAD. Simply beautiful [sic]," added a second follower.
"Look how happy she was when your face came up. Thaaats works [sic]" pointed out another one.
ROYALTY'S DANCE SKILLS
It is not the first time that Royalty shows off her dance skills on social media. The girl recently attended a Christmas party in school wherein her fantastic dance moves became the highlight of the event, and the clip that Nia Guzman (Royalty's mother) shared set that clear.
The video showed Royalty dressed in a pink tutu and dancing ballet with classmates. Royalty looked lovely in her black sleeveless top to match her short skirt and white ballet shoes. Her hair was neatly tied as she nails her routine with a smile.
CHILD SUPPORT DECISIONS
Royalty's family has plenty of reasons to smile this holiday season as Nia and Chris reached an amicable agreement after battling in court for her child support. In response to the mother's request for an increase in Chris' monthly payments, the singer has agreed but with several stipulations.
He promised to raise his $2,500 payments but not to the $21,000 she was requesting for. He offered to pay $9,813 monthly instead. Chris also intends to buy her a house and pay for her legal costs amounting to $100k. A new custody agreement is likewise in the works that would be amenable to both parties.
Brown previously contested Guzman's suit claiming the woman was merely milking him for money and using their daughter as an excuse. However, Guzman insisted her demands were for Royalty's safety. She accused Brown's fans of intruding in their privacy and reasons the increase in child support will be used for security expenses.
Please fill in your e-mail so we can share with you our top stories!