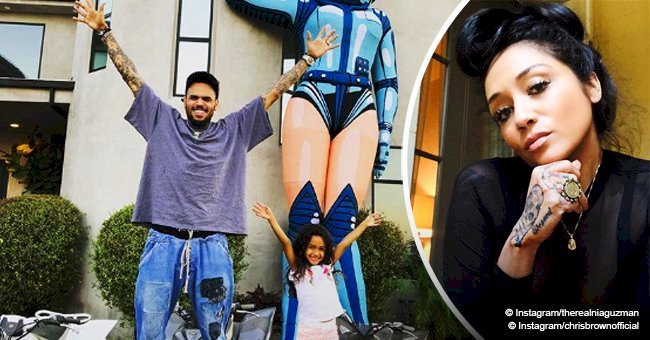 Chris Brown reportedly plans to buy ex Nia Guzman a house amid new child support agreement
Only a few months ago, Chris Brown and his baby mama, Nia Guzman were at loggerheads over their daughter, Royalty. Now, reports claim that the singer is planning to increase her child support payments and buy her a new house.
According to TMZ, the relationship between Brown and Guzman has improved, and the two are making headway in signing a new child support deal.
The "Forever" singer and Guzman are said to have been in talks for several months but are now about to iron out a new contract that will see Brown increasing his monthly payments for their four-year-old daughter.
Guzman reportedly demanded a monthly payment of $21,000 as opposed to what she currently gets- about $2,500. Brown has not agreed to that, but will "significantly" increase the payments.
It is also claimed that Brown, 29, will be buying Guzman a new house and paying her legal costs which come to over $100k. Details of a new custody arrangement are also discussed under the deal.
Two months ago, Brown contended that Royalty would turn out "spoilt" if he increased his payments to $21,000 as Guzman demanded.
"Providing a four-year-old with everything she demands could be harmful and is not in her best interest," argued the "Beautiful People" singer in court documents.
Guzman insisted that the increase in child support she demanded was for Royalty's safety.
She claimed that Chris Brown fans were too aggressive and intrusive, trying to take photos of their daughter. She allegedly needed the extra money to beef up security for Royalty.
Guzman also claimed that Brown only has their daughter 20 percent of the time, but the pop star denies it, saying he has her for at least 12 days a month.
Brown also stated that he pays $6,000 monthly for Royalty's private school, and covers medical and nanny expenses, even though Guzman's mother reportedly takes care of Royalty.
Brown said he pays 1,770.98 a month for vacations and travel, $1,516.59 for gifts and entertainment, and another $419 for activities.
The Grammy Award-winning artist accused his baby mama of using their child as a pawn to milk him of more money and restated in his documents that he won't be paying $21,000. Instead, Brown will reportedly increase the payment to $9,813.
Please fill in your e-mail so we can share with you our top stories!