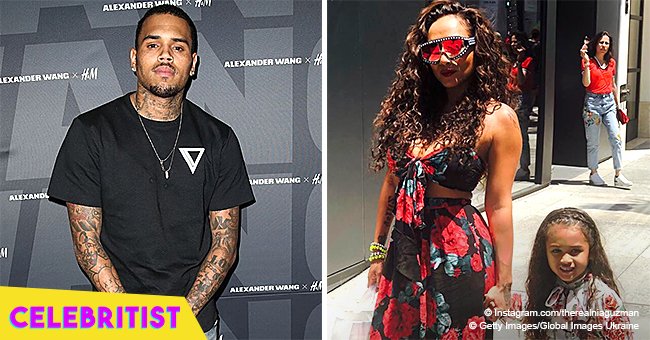 Chris Brown's baby mama reveals their daughter is allegedly being threatened by his fans

Another issue is being raised by Chris Brown's baby mama in her effort to increase her child support payments. According to her, their daughter Royalty isn't safe.
The mother of Chris Brown's daughter, Nia Guzman is in the news again after she claimed her daughter's safety is being threatened.
According to a recent report by The Blast, in her bid to push for an increase in her child support, Guzman revealed in court documents that her daughter's privacy is being compromised by fans. She says the money she's demanding is solely for the purpose of protecting her daughter Royalty "from CB fans who try and take photographs" of the 4-year-old.
She adds that her 2-bedroom apartment is no longer an ideal home for her daughter because it's accessible to fans who may become obsessive. She says her daughter is "trapped in my apartment. She can't go outside" and claims there are a lot of weird people outside taking pictures from their balconies.
She compares her situation to Brown who's also had multiple break-ins in his home and has fans often sitting outside it. She believes there are others who also want to do the same in her home to get close to her daughter.
Guzman is aiming to increase her current child support of $2,500 per month for Royalty and $4,000 for her nanny. In addition, she's requesting for a back pay amounting to $250,000. To prove how insufficient her funds are, the 35-year-old claimed Royalty had stolen money from her grandmother just to help with their financial woes. She also previously revealed she resorted to accepting Floyd Mayweather's donation of $20,000 to start a business in order to augment her income.
It's unclear whether the boxer merely invested his money and expects returns but he's scheduled for a rematch with Manny Pacquiao at the end of the year. If that goes well, he may not need to follow up on a return on his investment. The two boxers reportedly met at a music festival in Tokyo where Mayweather said he'll be returning to the ring to square it off with Pacquiao who he beat by unanimous decision during their first match in 2015. No date has been set but reports suggest it won't be earlier than December.
Please fill in your e-mail so we can share with you our top stories!